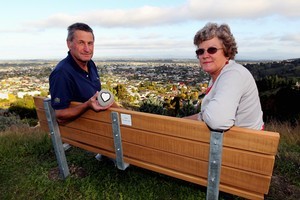 Napier couple Simon and Cathy Cowan hold on to slim hope of finding the truth about their son's disappearance.
Mr and Mrs Cowan have twice in the past two years visited former murder accused Danny Condren, said by police to have been owed $47,000 by Philip Cowan, who disappeared on a trip to Wellington in March 2001.
Mr Cowan says the visit was not what any person might do, but it highlights the desperation of people who have lost loved ones whose bodies have never been found, a situation some other Hawkes Bay families face.
Homicide is suspected or at least considered a possibility in the disappearances of teenager Mona Blades while hitchhiking home to Hawkes Bay in 1971, schoolgirl Kirsa Jensen while horse riding at Awatoto in 1983, Mohaka man Joseph Tuhi in 1994, Napier karaoke regular Richard Woods in 1996, and Napier mother-of-five Annabel Tumanako in 2007.
Mr Cowan says that like he and his wife, there would be other families unable to comprehend how people with the crucial knowledge could do nothing to at least ease some of their grief.
According to police, the last positive sighting reported of his son was at Mr Condren's business.
Phil Cowan's vehicle was later found abandoned near Bulls. Police suspect he was dumped in Tangimoana Forest.
Mr Condren and two others were arrested 16 months later. They pleaded not guilty to a charge of murder and were freed when a judge decided some evidence had prejudiced a fair trial. They cannot be charged again.
Mr and Mrs Cowan had written to all three, and were not unexpected by Mr Condren, who was "talkative" and friendly, but who denied any knowledge of the disappearance and who offered nothing to help bring closure.
Their second visit came as they questioned what he had told them first time, but the outcome was the same.
Their distress and another desperate plea were highlighted in a TV3 60 Minutes documentary last night, and Mr Cowan told Hawke's Bay Today: "It is one of the key aspects, that we're still trying to find Phil, admittedly with not a huge amount of hope.
"In this situation, I think you do all you can, follow all the processes, everything we can possibly think of, but after 10 years we still have nothing."
To try to extract something positive, he has committed to trying to find answers to underlying society issues which led to his son turning to drugs, which appears to have cost him his life.
Police Eastern District crime investigations manager Detective Inspector Ross Pinkham said such cases were reassessed from time to time, some based on new calls from the public.
While police had to keep open minds, the fact no body had been found indicated homicide as more likely. Recent arrests highlighted that in every case there remained some chance, Mr Pinkham said.
- APN