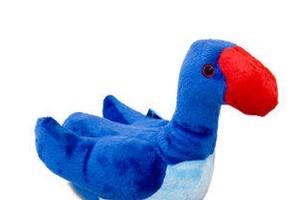 Artist Dick Frizzell never imagined his book Pukeko in a Ponga Tree would become New Zealand's biggest-selling children's book.
"I'm deeply impressed. Who would have have thought?" Frizzell said.
The award-winning book, written by the late Kingi Ihaka and illustrated by Frizzell, was a Kiwi adaptation of the classic song The Twelve Days of Christmas.
It replaced original items such as turtle doves with iconic kiwiana including haka lessons, fish-heads and kumara.
Frizzell's brightly coloured illustrations remained modern even though they were drawn about 30 years ago.
The book had since become part of many Kiwis' childhoods.
"If I lived in America I could have survived off selling one book," Frizzell quipped.
Pukeko in a Ponga Tree won an award for selling well over 40,000 copies and sales were still ticking over today, Frizzell said.
"I'm very proud of that book. I see lots of drawings [of mine] that kids have done. I've heard it performed by my grandson's class."
The Herald on Sunday looked into what it would cost to bring the book to life this Christmas.
Many items could be bought online at gift website shopenzed.com, including 12 piupiu, six poi, three flax kits and a soft-toy pukeko - you cannot legally buy live or dead pukeko birds.
There wasn't usually a price tag on haka lessons but anyone could join a kapa haka group and get 11 lessons for free.
Ten juicy fish heads and nine sacks of pipi could be bought from Toby's Seafoods in Otahuhu; seven eels were best at Oceanz Seafood in Auckland's Botany.
Five fat pigs were available through New Zealand Pork and the eight plants of puha would be growing locally where you could pick them for free.
Kinaki NZ chef Charles Royal could help out with the puha and four huhu grubs.
Kumara was readily available in supermarkets.
Specialist fern nursery Fronds had a wide selection of ponga trees, starting at half a metre tall.