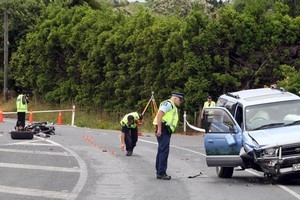 A motorcyclist was critically injured when he collided with a 4WD vehicle in West Auckland yesterday.
The crash happened on the intersection of State Highway 16 and Kennedys Rd at Whenuapai about 3.45pm - and came less than 24 hours after a motorist was killed further south on Auckland's western highway network.
St John took the motorcyclist to Auckland City Hospital in a critical condition.
Two people who were travelling in the car were also taken to hospital with minor injuries.
Police, fire and ambulance attended the crash.
The motorbike was crushed in the centre of the road and had knocked a front wheel off the 4WD.
The serious crash unit is investigating.
State Highway 16 was blocked and southbound traffic diverted at Taupaki through to Don Buck Rd.
Northbound traffic on SH16 was being diverted on to Coatesville Riverhead Highway.
Late on Friday night, a 37-year-old man died after he lost control of his Holden Commodore on Auckland's Southwestern Motorway.
Senior Constable Karl Bevan of the Waitemata serious crash unit said the car swerved right before veering left and sliding sideways off a 1km-long straight near Walmsley Rd, Mangere.
The car hit five trees at a "moderately high speed" before coming to rest in bushes about 20m up a bank, shortly after 11pm.
"The driver sustained fatal injuries from a sideways impact with a large tree to the driver's door," Bevan said.
Alcohol and speed were thought to be factors but it would be some time before the cause was known.
- additional reporting APNZ