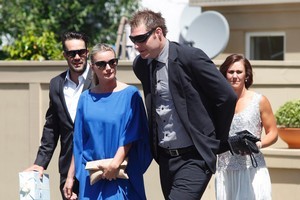 They went to extreme lengths to prevent media and the public getting a look-in, and yesterday, sporting royalty Dan Carter and Honor Dillon managed to pull off the wedding of the year shrouded in secrecy.
The All Black star and former Black Sticks hockey player are understood to have married in a ceremony at 4pm in front of family and friends, including A-list sporting celebrities, under mostly clear skies at the exclusive Lake Timara Lodge just outside of Blenheim.
An aerobatic aircraft display overhead prevented any other aircraft flying over to provide passengers with a bird's eye view of the proceedings.
The air space was reopened to air traffic from 5.30pm, after the wedding ceremony had been completed, and aerial photos showed guests, including Carter's All Black teammate Ali Williams and partner Casey Green, mingling after the ceremony.
With exclusive rights to the wedding coverage bought by a women's magazine - believed to be for $50,000 - publisher ACP Media cautioned other media organisations it would take legal action should they infringe on the rights it had purchased.
Roads closed around the lodge from 2pm ensured that no one could get close enough to take a look, and even neighbours were asked not to allow onlookers on to their properties.
The wedding glamour was briefly on show around 3pm as many of the guests boarded buses with tinted windows in central Blenheim for a 10-minute journey to the lodge.
The men were impeccably dressed in suits and ties, while the women wore a range of brightly coloured dresses, hats and fascinators.
Among those travelling on the buses were World Cup-winning former All Black coach Graham Henry and his wife, Raewyn, and former All Black Leon MacDonald and his wife, Hayley.
All Black captain Richie McCaw, hobbling on crutches after an operation on his foot, went by car from a Blenheim motel to the wedding.
Guests had been mostly unwilling to comment on the wedding after being asked to keep details secret. Honor Dillon's uncle, Richard Dillon, told the Herald that the invitation did not even disclose the venue. He was predicting a "joyous" occasion.