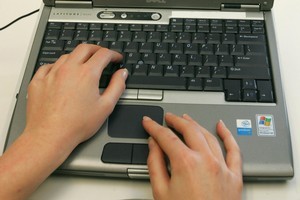 Scepticism of the internet has all but disappeared in New Zealand, as users now prefer the web to any other source of information, confidently buy and sell goods, and increasingly create real relationships from online connections.
A World internet Project study which highlighted the nation's use and attitudes to the internet found broadband was at saturation level and smartphone use skyrocketing.
The increased mobility of handheld internet and wireless connections meant the web was now an extension of New Zealanders' bodies, not limited to the office or study.
The paper showed 86 per cent of New Zealanders used the internet, up from 83 per cent in 2009 and 79 per cent in 2007.
Project director Professor Allan Bell from the Auckland University of Technology said the most significant finding was the shift of internet use to the lounge and kitchen.
"It really embeds the use of the net within the daily life of the home ... 54 per cent say they're using it in their front room.
"That means they're doing a whole lot of things more frequently than they used to be. Over 15 per cent of people are doing online banking every day, we have 20 per cent of people checking facts online every day, 10 per cent of people looking up a word." Of the 64 per cent of net users which used social sites, 96 per cent preferred Facebook.
The site was such an ingrained part of our lives that technology commentators suggested it could need more regulatory scrutiny on issues such as privacy and bullying.
While New Zealanders have previously lagged behind the OECD in getting broadband connections, 91 per cent of users were now on broadband. The use of smartphones such as an iPhone has jumped from 7 per cent in 2007 to 27 per cent in 2011.
Professor Bell said the widespread, cross-generational use of the web meant it had become more trusted as a source of information, as a marketplace, and as a place for finding friends.
While older New Zealanders were signing up to email, younger people were leaving it.
Teenagers are making fewer telephone calls, instead communicating mostly by text and through Facebook.
Broadband use is at saturation point as users enjoy the freedom of mobile connections
Online love affair
* 86 per cent of New Zealanders use the internet, up from 79 per cent in 2007
* 91 per cent of internet users have a broadband connection
* 27 per cent of internet users have a smartphone, up from 7 per cent in 2007
* 40 per cent of internet users look up the definition of a word every week
* 59 per cent surf the web daily
* Maori, Pasifika and Asian ethnicities are more likely to 'make friends' online than NZ Europeans
* 64 per cent of internet users belong to a social networking site, with 96 per cent preferring Facebook
* Telecom's share of internet connection has fallen to 49 per cent, with TelstraClear taking 16 per cent, Vodafone 13 per cent, Slingshot 9 per cent and Orcon 5 per cent
World internet Project New Zealand, Institute of Culture, Discourse and Communication, AUT