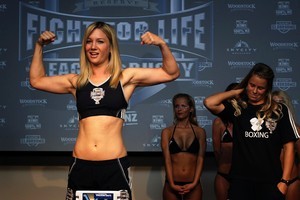 A total of $166,000 is set to help educate hundreds of men about the need to get tested in the fight against prostate cancer, thanks to this year's Fight For Life.
The annual event, held at the Trusts Stadium in West Auckland last weekend, brought in thousands of donations in support of the Prostate Cancer Foundation.
Fight For Life promoter Dean Lonergan said this year's event had exceeded expectations: "Our target was $100,000 and we managed to get $166,000 ... we are very happy."
Lonergan paid tribute to those who took part in this year's event, making a special mention of the girls' fight - between surfer Paige Hareb and The Crowd Goes Wild presenter Hayley Holt - which he said they had received "great feedback" about.
The funds raised also include a $20,000 knockout bonus offered for the Monty Betham and Shane Cameron clash, which was left unclaimed.
And TAB also donated $10,000 to the cause.
Prostate Cancer Foundation chief executive Keith Beck said they had been overwhelmed with the amount of funds raised: "It's been a marvellous event for us and we're very please to have been involved."
Mr Beck said the main aim was to raise better awareness about the need for men to visit their GP and get their blood tested.
"When you have someone like Wendell [Sailor] and Jonah Lomu looking down the camera and saying: 'Guys, get tested', then that's something."
Mr Beck said they had seen a sharp increase in the number of people calling their helpline.
"There were actually phonecalls being made during the Fight For Life event.
"The women are actually the ones who have driven the men to do it - to make the call."
Funds raised will go towards more support and education programmes run by the foundation, and to raising more awareness about prostate cancer.