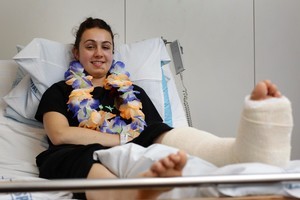 One moment she was abseiling from 20m atop a building, the next she was in an ambulance.
That's all Mikaela Blayney can recall of her six-storey plunge from an Auckland building on to hard concrete.
The acrobatic abseiler told the Herald yesterday from her hospital bed she was grateful to be alive.
"I can remember being up top holding on and then I remember waking up in the ambulance.
"I think I probably blocked it out. It's probably just as well. The brain injury people [at the hospital] were asking me questions and I said I was kind of glad I don't remember."
Before the accident she had been on top of the Metro Centre building in Aotea Square dressed as a mermaid as part of a Vertical Auckland performance.
She woke in the ambulance in no pain thanks to the morphine she'd been given.
"I thought it was a dream. All I could think was 'what is going on'. People were asking me all sorts of questions like am I allergic to this or that. I just wanted to know what was going on."
The 20-year-old has only a vague memory of the trip to hospital but has been told she spoke to those who rushed to her side after the fall.
"I was sitting in a neck brace wondering what was going on or how bad I was hurt but I could move my feet and hands so I thought 'I'm good'."
She was expected to leave hospital last night with a fractured cheekbone, jaw and her leg in plaster.
The first person she spoke to properly was a friend's father, a surgeon at Auckland City Hospital.
"He came and found me. It was so nice to know someone because it's quite scary being in hospital and not knowing anyone."
While she was checked for injuries, her father Don Blayney was rushing to her fearing the worst. His wife, Gaye, called him from work to tell him what had happened and while he drove to pick her up he heard a radio report that said Mikaela was critically injured.
"I heard she'd fallen four floors ... Logically four floors, concrete landing - that's not going to be a good outcome," he said. "I didn't handle much of it well at all. I just focused on driving and we made it in one piece [but] in my mind I was thinking this was death or paralysis."
Mr Blayney called it a "disaster, a day from hell".
When they were finally reunited Mikaela said she "just blubbered and said 'I'm okay"'.
"I'm unbelievably lucky. There must be angels up there looking after me. I know my parents as soon as they heard they rang people from church and everyone's been praying. I don't think there's any other explanation for it. It's an absolute miracle that I'm as good as I am."
She doesn't care what led to the fall.
"It's a freak accident, it's not going to make any difference if I know what happened. I don't want to blame everyone."
The fall wouldn't put her off performing, but she might give aerial work a miss for a while.