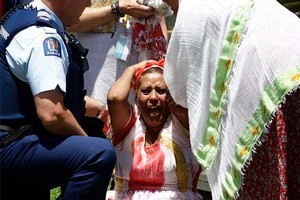 Three young Ethiopian children have been left without a mother following a fatal fire that ripped through their new home just weeks before Christmas.
Ethiopian woman Meme Woldeyesus's body was found in the rear bedroom of her Waterview home by firefighters as they battled a fire that broke out just before 10.30am.
A post-mortem examination due to be carried out this morning will determine how she died but neighbours said the blaze was so intense windows were smashing in the heat and flames were seen reaching well above the roof of the Housing New Zealand home which the family had only recently moved into.
It is understood the mother was in her early 30s and had three children.
Close friend Fetiya Mohammed said Ms Woldeyesus came to New Zealand recently to be with her sister, who had arrived here as a refugee at least seven years ago.
"She was a lovely woman trying to settle in New Zealand, struggling so hard for her children, teaching them to get ahead.
"In New Zealand it's not easy to settle: the language barriers, the cultural barriers, finding a house is difficult, you aren't able to study immediately, but she was doing okay.
"She just got her Housing New Zealand house and ... she was trying to register to study next year."
One of her children, a 5-year-old son, was in class at Waterview Primary School when he was told of his mother's death.
School principal Brett Skeen said he was "a gorgeous little boy".
He had just written a story about how Christmas here was different to in Ethiopia, and the things he was going to do with his mum these holidays.
"But now, unfortunately, that's not going to happen.
"So the message I'm giving to all the parents here is that there's this boy who can't go home and hug his mum tonight so make sure when your children come home give them a good hug."
The boy had been picked up by extended family who were looking after him, along with Ms Woldeyesus' other two children.
Fire safety officer Ray Coleman said it had not been established how the fire started and police and the Fire Service would continue examining the scene.
Asked whether the fire was being treated as suspicious, Mr Coleman said: "We're not treating it as anything at the moment but then it was a fatal fire so we're still processing the wheres and whens and whys before deciding whether it was suspicious or otherwise."
Neighbour James Connoley said he came out of his house when he heard someone yelling "fire, fire, fire".
"The flames were gushing higher than the roof. It was huge, they were just pouring out."
Another neighbour, Aaron Wells, said: "It's really sad, just yesterday I ... asked her whether she was going to plant anything in her garden and she said 'yeah, they were going to dig the garden up once they'd settled'."
Members of the Ethiopian community, including women in veils, spent much of yesterday outside the home.
- APNZ