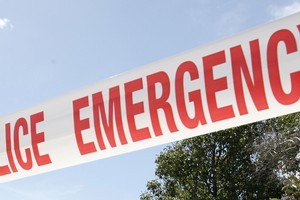 Homes were evacuated and a street cordoned off late last night after a fake bomb was left at the door of an elderly Greymouth man.
The bomb squad was brought up from Christchurch about 2am after emergency services were alerted just before 10pm yesterday.
"They examined the package and deemed that it was safe to be handled," said Detective Constable Michel Bloom.
He would not disclose any details about the shoe box-sized device, saying it could hinder the police investigation.
The lower end of the street was closed off and three houses evacuated as a precaution.
Police said the elderly man, who lived alone, had been the victim of a number of "random attacks" on his home since the start of November.
The man was "very shaken up" by last night's incident, which was a serious escalation of inexplicable attacks, including arson and having a jug thrown through the window.
"We are unsure why the device was left of the victim's doorstep. However, his house has been subject to repeated attacks over the past month or so," Mr Bloom said.
"We have no idea why these attacks have been taking place, and the victim doesn't know why either.
"The attacks are becoming more serious each time. Whoever is responsible seems to be stepping it up, and we want to catch them before something terrible happens."
Mr Bloom said the victim did not have any criminal connections and was not known to the police.
"It appears the attacks are being made in retaliation to something - but the victim has no idea what."
- APNZ