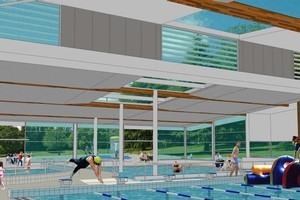 A proposed $14 million four-pool indoor complex in Cambridge has been thrown a final lifeline.
The Waipa District Council yesterday voted seven to four to tell the Cambridge Fundraising Committee it must raise $4.5 million towards the pool by April 30 next year or it would go back to the drawing board. It is the second time the council has approved an extension, and will be the last.
The council also agreed to loan the committee a further $30,500 towards fundraising costs, bringing the total to $70,500 which is to be repaid once the committee starts receiving money.
The new indoor complex would have a lane pool and pools for lessons, leisure and therapy and for toddlers.
It would have sauna and spa facilities, and be built in place of the existing Cambridge pool.
If it is approved, the council would put a tender out for the pool in July and it would be built within two years.
The council first approved the pool in its capital project programme in 2009.
The clincher to councillors backing the deal was a recent $500,000 grant from NZ Lotteries and a further $830,000 from the community.
New costings have also brought the initial build cost down from $15.1 million to $14 million.
The committee is confident it will be able to raise additional money from a further funding application to be considered early next year.
Waipa Mayor Alan Livingston said the community was split over the proposed complex, and thought the amount raised by the April deadline would be indicative of how much support there was for it.
However, he acknowledged the tough economic climate had also made raising money more challenging.
"The fundraising committee has indicated if it can't raise the funds by [April] it is the end of the line for them."
The project would then be pushed back two years in the council's long term plan and it would consult the community about the facility.
Fundraising committee member Jim Mylchreest was confident the committee could secure the money. .
He said the complex had the support of several organisations and all the schools because the older pool had reached the end of its useful life.
The group was also continuing talks with a naming rights sponsor but that was dependent on a positive community reaction to the pool.
But Cambridge Save Our 50m Pool group spokesman Roy Emerson said the latest decision was disappointing as opponents had a petition of 5730 concerned citizens.
He said the existing outdoor pool built in the 1970s was "lovely", and
the best and most cost effective option would be to build a 25m pool beside the existing one.
Councillor Joe Scaramuzza declared a conflict of interest with his role as chairman of the fundraising committee and removed himself from the meeting.