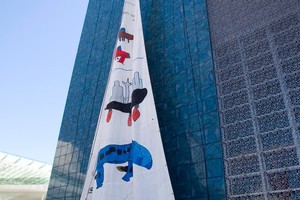 The father of an acrobatic abseiler who plunged six storeys from an Auckland city building in front of shocked onlookers - breaking only her cheekbone - says it is a miracle his daughter is alive.
Don Blayney was last night with family members at the hospital bedside of Mikaela, 20.
"But she's doing okay," Mr Blayney told the Herald. "She's got possibly a fractured cheek bone so she may need to have surgery in the next couple of days," he said.
It had been a miracle considering the fall.
"We heard she was critical on the way to the hospital so we're very, very thankful. It could have been a whole heap worse so it's a huge relief."
Ms Blayney, wearing a mermaid costume, was part of an acrobatic abseiling group performing above Aotea Square when she plunged about 20m to the ground without her rope breaking the fall.
St Johns initially said she fell four storeys, but three witnesses told the Herald she fell from the top of the Metro Centre cinema complex, which reaches the sixth-floor of an adjacent office building.
A close friend of Ms Blayney, J.D. Koppel, was also at the hospital last night and said she could not remember much about what happened.
"She's not up to talking or anything, but it's definitely nothing short of a miracle," he said.
"There's no way someone falls that far and survives at the end of it."
The Co. Theatre Physical's display was the opening performance of a summer series of street acts in the square yesterday.
One spectator, Ashleigh Smyth, said she was watching the show from the window of her office.
Ms Blayney had stood on top of the Metro Centre building waving her mermaid flippers while other acrobats moved up and down on ropes.
Ms Smyth said that when Ms Blayney started to descend she thought it was part of the act.
She never expected Ms Blayney would fall all the way to the ground.
"I thought she was going to get caught - but she didn't. She just fell."
Annalie Longo, who also saw the incident, said delight at the performance suddenly turned into shock.
"I hope she's OK. I just couldn't believe it," Ms Longo said. "I don't know if her harness wasn't on or what."
Nearby cafe workers said the fall had stunned everyone in the square.
"She fell from right at the top. There were two others with crabs or lobster on their backs, both just going up doing acrobatics on the wall," said one.
Some patrons of the cafe had seen Ms Blayney injured on the ground.
"They said she sort of seemed like she was conscious but there was a big pool of blood."
Co. Theatre Physical founder Beth Kayes said: "All I can say is thank god Mikaela is okay and she's recovering."
A St Johns ambulance spokeswoman said Ms Blayney's condition had been classified as critical when paramedics arrived, but by the early afternoon an Auckland Hospital spokeswoman said her condition had become stable.
A spokesman for The Edge, Paul Brewer said there would be a full investigation into the accident.
"This is obviously a very unfortunate, very sad event," he said.
"There was a full safety plan that was run past OSH [Occupational Safety and Hazard] and this is a very experienced theatre company."
Mr Brewer said the rest of the "Random Acts" programme would go ahead as planned.
The acrobatics act, "Vertical Auckland", was one of several performances in the square.