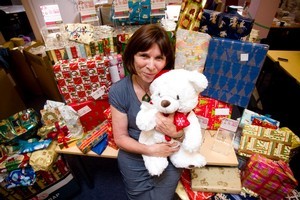 The Auckland City Mission needs Christmas presents for more than 2000 people - and especially teenage boys.
Volunteers yesterday started sorting donated presents into age- and gender-appropriate boxes to be given to needy families seeking food parcels close to Christmas and at the mission's free Christmas Day lunch.
Already companies and individuals have donated lots of presents for young children, and for adults. But there is a big gap for teens aged 10 to 16.
"Teenagers are more difficult than anything," said City Missioner Diane Robertson.
"Teenage boys are the hardest group to find presents for. People think of small children, I guess, at Christmas, but teenagers, and boys in particular, do need to be included."
The mission expects up to 2000 people, including about 600 children, at its Christmas Day lunch, which is moving this year to the new Viaduct Events Centre with support from the council-controlled Waterfront Auckland.
It also expects to give out 1800 food parcels this month in Hobson St and at its Otahuhu branch. Social workers interview families applying for food parcels and will offer Christmas presents to those who can't afford any.
Food and presents can be donated in bins at Auckland ASB Bank branches or to Urgent Couriers, which is collecting them free. Workplaces are encouraged to set up collection boxes.
The appeal this Christmas, which aims to raise $850,000, is also encouraging donors to have their photos taken with a pair of wings and post them on Facebook to spread the word. About 30,000 people are expected to write messages on wings being attached to a gantry in the Wynyard quarter.
ON THE WEB
aucklandcitymission.org.nz