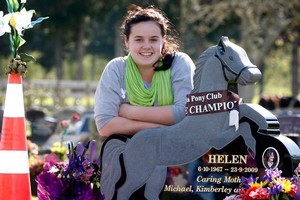 Kimberley White was shaking with fear as she prepared to stand up in court and confront her stepfather.
For years she had lived under the thumb of Greg Meads, a violent control freak who took a loaded shotgun into the garage and shot her mother dead because she told him their marriage was over.
When the Matamata horse trainer was sentenced in April for the murder of his wife Helen Meads in 2009, 19-year-old Kimberley had to hold her grandfather's hand to stop herself trembling.
But as she began to read her victim impact statement, she felt stronger by the minute.
"I started to realise that he needed to know what he'd put me through and what he'd put my family through.
"So I think as I kept reading, I gained some confidence in just knowing that he was finally finding out how much he hurt me."
Glaring through her tears at Meads, she spoke of how she'd dreamed of her mother seeing her graduate from university, walk down the aisle at her wedding and watch her children grow up.
"Now, none of these things will ever happen because you took her away from me. You destroyed any chance I had of leading a normal life. You took my mum away from me.
"For that I will never forgive you. I hope you rot in hell."
Kimberley remembers that Meads showed no sign of remorse. "He just stared at me as if to say: 'You don't say that to me."'
But she feels that confronting him that day in court helped her to move on from her anger and start grieving for her mother.
She's delighted to be named as one of the Herald's New Zealanders of the Year finalists. And she's quick to thank her maternal grandparents, David and Pamela White, and her boyfriend, Kieran McPherson, who she freely admits went through "absolute hell" with her as she wrestled with her emotions.
Both are students at Massey University in Palmerston North, where Kimberley is halfway through her primary teacher training and Kieran, a top triathlete, does engineering.
Kimberley's 11-year-old stepsister Samantha, the daughter of Helen and Greg Meads, lives with the White family in Matamata.
Kimberley says Samantha still feels conflicted - "Who wants to deal with the fact that their father killed their mother?" - but she hopes their love and support are helping her cope.
She supports the work of her grandfather, David White, who has become an ambassador for the White Ribbon campaign opposing violence against women.
Last month, the family turned out as the White Ribbon campaign national bike ride passed through Matamata and she hopes the message will get through.
"No one deserves to go through what we've been through and if we can help one family, that would be good."
Two years after the murder, she still dreams about her mother a lot.
"I still wake up some mornings and it takes me a few seconds to remember that she's not here.
"I try to focus on the good things. I try to live every day to make her proud."
Remarkable achievers
They have made our country a better place in 2011 - welcome to the Herald's New Zealander of the Year series. This week we're profiling 10 finalists - we started yesterday with the Rena salvors and the leader of the Christchurch earthquake student volunteer army, Sam Johnson. We'll announce the overall winner in Saturday's Weekend Herald along with the best sporting achievement and business New Zealander of the Year.