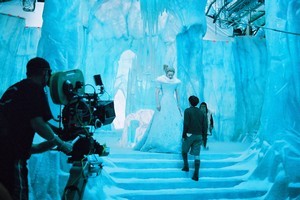 Auckland Film Studios will be used to shoot a US film, Emperor, a political drama and love story set amid the tensions and uncertainties that followed the Japanese surrender at the end of World War II.
Director Peter Webber, whose films include Girl with a Pearl Earring and Hannibal Rising, will begin filming in January once casting is confirmed.
New Zealand Oscar winners Grant Major (production designer) and Ngila Dickson (costume designer), Oscar nominee Stuart Dryburgh (cinematographer) and Mr Pip producer Tim Coddington will work on the production.
Filming will also take place in Wellington and Japan and post-production work at Sir Peter Jackson's film facilities at Miramar in Wellington.
The film's production company, Corn Cob, has started building sets at Auckland Film Studios in Henderson.
The movie is the first big production to be filmed at the studios since the Auckland Council body, Auckland Council Investments, paid $1.5 million to secure a 100 per cent shareholding in August.
The council inherited a 44.4 per cent share in the studios from the Waitakere City Council, which had turned the former apple coolstore site into the "Hollywood of the South Pacific".
In a joint venture, Tony Tay Film received a 56.6 per cent share in the Henderson Valley site in return for taking on the $7 million cost of developing it for medium-budget films.
In February, Tony Tay Film went into receivership, and the council had first option to buy.
Auckland Council Investments chief executive Gary Swift said securing Emperor - a working title at this stage for the movie - was a coup that allowed the studio to develop a strong foothold in the local film industry.
"The film will create many jobs locally and will pump money into the domestic economy.
"It highlights the council's wisdom in purchasing the remaining shares in the studios ... and build New Zealand's reputation as a world-class film location," he said.
Several hundred workers will be employed at the peak of production. At this stage, the film's budget and economic benefit for Auckland are not known.
The studios have been used to shoot Xena: Warrior Princess, two of the Chronicles of Narnia films and The Warrior's Way featuring Kate Bosworth and Geoffrey Rush.