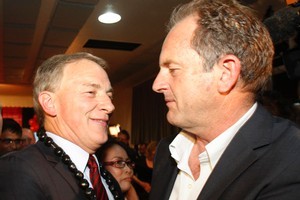 The regimes of Helen Clark and Phil Goff are being dragged into the Labour leadership contest, with David Shearer suggesting the party hasn't moved on from the Clark days and David Cunliffe being quite happy not to have the support of Mr Goff.
Others in the party are calling for a deep re-examination of the party in the wake of its poor election result.
Senior MP Shane Jones, who has yet to declare his preference, says Labour has to move past the "identity dimensions" and work out how to reconnect with ordinary Kiwis.
Labour's policy council secretary and blogger Jordan Carter said the result was a "complete rejection of Labour as a party fit to lead" and the party must be ready to make some hard choices "about how to refound our party".
The party is also about to embark on a review more substantial than its regular post-election review, president Moira Coatsworth confirmed last night from Sydney where she is observing the Australian Labor Party conference.
The two leadership contenders made two live television appearances at the weekend in the contest to replace Mr Goff as leader on December 13 following the drubbing at the election.
Mr Cunliffe acknowledged on TV3's The Nation that he was in contact with former Prime Minister Helen Clark in New York last week about the leadership bid.
He also pointed out on TVNZ's Q+A yesterday that Mr Shearer had the support of leader Phil Goff and deputy leader Annette King, and he appeared content not to have it.
"They're great people and they've worked really hard but we got a result that was a good, old-fashioned shellacking."
Mr Shearer said while the Clark Government, in which Mr Cunliffe was a minister, had some remarkable achievements, it was time for a clear break from the past.
Mr Cunliffe slipped into leadership mode and making up policy on the hoof, when he suggested that a Labour Party under his leadership could nationalise the state-owned assets that National has promised to partially float this term.
Mr Cunliffe and Mr Shearer begin meetings with party members tonight, starting in Hamilton, before the caucus votes next Tuesday when Mr Goff resigns. In between meetings, they and their proxies will be furiously lobbying MPs for support.
Wellington Central MP Grant Robertson has been suggested as a possible deputy for Mr Shearer but Mr Shearer appeared to rule out nominating a deputy before the leadership vote.
That was a question for the caucus, he said.
"I said to them I would not be offering anybody anything and I will stand by my word."
Mr Goff last night refused to confirm he supported Mr Shearer, though it is an open secret that he does.
Mr Jones told the Herald last night it was important that the pair met the rank and file of the party because the party had to maintain its volunteer base.
"A key part of doing that is them having confidence that this leadership transition is not only real but it deals with outstanding issues that Labour has got in front of them.
"Number one, moving beyond the identity dimensions of our Labour Party brand," he said.
"I just really think we've got to be able to reconnect with whatever that mythical garden-variety creature called a Kiwi is.
"Not enough of them believe that we represent their interests."
Part of the search the party was going through was about delving deep down - "what lies at the core of our brand".
"That's why I want to see them both strut their stuff."
WHAT THEY SAID
David Shearer
"We need a clean break from the past. I think part of the election result was really an outcome of, in a sense, still being locked back in the past."
"There was a feeling that the Clark government did some remarkable things ... but it came to its end. I think what the Labour Party needs now is to move forward in a fresh way."
David Cunliffe
"I would say [I] owe less to the recent past, than perhaps, the other ticket here ... because my opponent has the support of the outgoing leadership team.
"They're great people and they've worked really hard, but we got a result that was [a] good, old-fashioned shellacking ..."