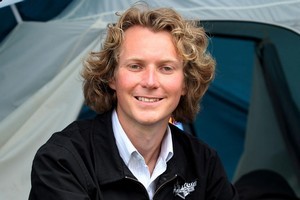 A former millionaire property guru and a wealthy business owner now call tents their homes.
Chris Glen claims he has slept in Aotea Square for 50 nights as part of the global "Occupy" protest. Glen is financially stable as an owner of two pubs and a cafe in Manchester in the UK and doesn't need to be working.
"I go back to the UK every six months to see how they are going but I have managers looking after the businesses for me. I went there on a gap year and decided to go back and buy them nine years ago," he says.
"Being financially secure has enabled me to be here full time."
He says he doesn't find camping very comfortable.
"There's constant noise and the lights of the city. Of course it's hard when it rains."
But he says it is worth it for the cause.
"The openness and the willingness of the public to look at issues more than makes up for any difficulties we face."
Glen has access to his home, and returns to shower regularly.
He says there are only two others who have done the same as part of Occupy Auckland.
He treats the occupation as a job, getting up at 7am every morning and is at his desk by 8am as a co-ordinator, responsible for the occupation finances, ensuring money donated by the public is put to good use. He says the protest receives about $3000 to $4000 a month in donations.
His family in the South Island is very supportive but were worried when Glen was arrested on November 9. He was later released without charge.
A former millionaire property guru who once lived in a waterfront home in the plush Auckland suburb of Herne Bay has also been living in a tent in Dunedin's Octagon.
"I know we are making a difference. This is my new occupation," Kieran Trass told the Otago Daily Times from near his makeshift residence of the past few weeks.
The 49-year-old says he is down to "the last of my resources" and detached from his previous life as a banking and property high-flyer.
He has worked at Nathan Finance, UDC and CitiBank in mortgage lending and corporate banking. He set up a dozen start-up companies, including the property consultancy Hybrid Group, an online mortgage brokers, a property trading company, a building company, and a legal practice.
He published five books on the topic, including Grow Rich with the Property Cycle and The Housing Bubble.
In 2007, "before the world turned", he increased his exposure to property, and with his businesses shrinking lost hundreds of thousands of dollars, and "I haven't recovered".