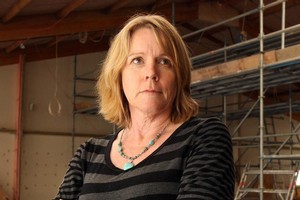 Primary schools are being forced to raise hundreds of thousands of dollars to pay for leaky building repairs instead of putting money into much-needed learning equipment.
Parents and staff at Long Bay Primary on Auckland's North Shore have to raise $170,000 to repair their school hall which started leaking two years after it was built 12 years ago.
A survey showed that 580 blocks at 245 schools were leaky or likely to leak. A further 907 schools were still to be assessed.
The Government has spent more than $15 million repairing the damage in 24 schools and a further $1.1 billion is estimated to be needed.
In the case of Long Bay, the school and community were liable because the hall was only half owned by the ministry. Schools are not automatically entitled to a hall so 12 years ago Long Bay Primary fundraised to build one. Because they raised half the cash to build the hall they owned half of it - and half the huge repair bill.
The money to repair the hall cannot come from the school's ministry property allowance as that budget was for new work, not renovation. The money would need to come from fundraising or out of the school's annual operational funding. The school borrowed money so the work could start immediately and the PTA set up a Buy a Brick campaign.
There were a range of sponsor prices, including $20 for a brick, $50 for a cornerstone, $100 for a foundation block and so on up to $10,000. About $4000 has been raised so far.
Principal Linda Barton said community support had been high but it seemed they had only just donated heavily for the hall to be built and now were being asked to donate again - this time to fix it.
Barton said the school faced financial challenges over the next few years and needed to balance repayment for the renovation with meeting the educational and operational costs of the school.
A parent, who asked not to be named, said $170,000 was a huge amount of money to have to coax out of the small local community.
"The Government seems to think we have bottomless pockets. We don't.
"We're just normal, hard-working, taxpaying Kiwi mums and dads. There's only so much we can give.
"But the hall is an important part of life at the school and we really have no choice."