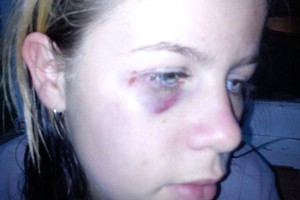 It's hard to blame Mellissa Anderson for taking on the bullies who had been tormenting her daughter.
The image of 13-year-old Summer looking bruised and battered on the front page of the NZ Herald this week was a sorry sight - and I know my response would have been at the extreme end had it been my girl who'd been assaulted.
Mellissa, who chased the older girls and allegedly assaulted the ringleader of the attack, says her response was a mother's rage, an instinctive reaction after seeing her daughter hurt.
Admittedly, we've only heard Mellissa and Summer's side of the story - there may be more to the altercation - but at first glance, I'm with Mellissa.
When my girl was 10 or 11, she and a friend were walking slightly ahead of me up Queen St in Auckland. They couldn't be seen walking with a MOTHER at that age; especially not a mother who was fronting Ready, Steady, Cook.
So the two older, tougher and out-of-it girls who approached them and started pushing them around thought they were easy prey. But the glue-sniffing street kids reckoned without the tiger mama bringing up the rear.
When I realised that the teenagers were at best intimidating and threatening my girls - and at worst assaulting them and stealing from them - I turned into Jake Heke. A violent red rage came over me and I was transformed from a mild-mannered mother-of-one into a foul-mouthed, furious harpy willing to fight an army to protect my child.
I flew at the one holding on to Kate, grabbed her by the throat and started screaming at her to get her hands off my child before I ripped her head off and spat down the hole. There were a few profanities chucked in for good measure.
Her mate, who topped me by a good 15cm, realised I was a whole lot more trouble than they'd bargained for and kept repeating in a slurred voice, "It's cool, it's cool". I bellowed at her too, they backed off, turned tail and all of a sudden, we were back to normal.
My girl and her friend were looking at me with a combination of awe and horror and I was wondering what the hell had just happened.
And that was just a response to my daughter being pushed around a bit - I can't imagine what I would do if she'd come home looking like Summer. So I understand where Mellissa Anderson is coming from - I really, really do.
But I do think there needs to be some examination of her response. We don't all react the same way in different situations. You might think a bully calling your child a fat loser is worthy of a hiding; I might not.
With hindsight, I think my reaction to the street kids was disproportionate to their actions against my child - and if I'd belted one of them, I'd have expected to have to answer for that. Again, other people might not. It's all very subjective.
And I guess that's why Mellissa needs to account for herself in court. Earlier in the week she indicated she would plead guilty to assault but at her court appearance, she didn't enter a plea and has been remanded on bail.
It remains to be seen whether our legal system decides her reaction was over-the-top but the court of public opinion seems to be firmly on Mellissa's side.
And unless I hear that there was anything more to this story than what we've heard, I'm with Mellissa too.