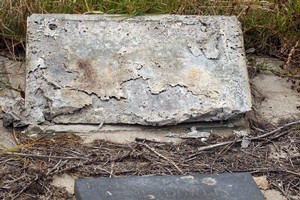 Scrap metal trade across Auckland has taken a hit with several arrests.
Garry Bradford-Smith, of Fullmark Products, has been charged with receiving stolen cars and breaching the Secondhand Dealers Act.
The 73-year-old was charged with operating his East Tamaki scrap metal yard without a dealers' record. He is also charged with authorising his employee to work without a certificate.
It's alleged he received stolen cars between August 18 and November 2.
All scrap metal dealers are required to be certified and keep a record, including documenting and taking identification from sellers.
He was remanded to reappear in the Manukau District Court.
The arrest is part of an Auckland region-wide crackdown on the sale of stolen scrap metal.
Two men were also arrested recently over stolen brass plaques from graves at a West Auckland cemetery.
Neil Joseph Anderson, 46, has been bailed after he appeared in the Auckland District Court on 26 charges of theft and intentional damage for the removal of 13 plaques from Waikumete Cemetery in October. The plaques were worth $16,814, some at $1950 each. However, the plaques would have brought the seller only about $250.
Kieron Richard Officer, 48, of New Lynn, appeared in court last month on charges of receiving the stolen plaques on October 21.
Officer was alleged to have sold the plaques to New Lynn scrap metal dealer Peter Gwilliam, of Western Scrap Metals, who alerted the police. Gwilliam was reluctant to talk about the case but said he had done the right thing because he was a responsible dealer.
Dan Sales from Waikumete Cemetery said 13 plaques had been taken.
In the last financial year, overall recorded thefts increased by 8.5 per cent in the Auckland City district. Police put the increase down to a hike in thefts of scrap metal and a region-wide initiative has been launched, headed by Inspector Gary Davey of Waitemata police.
Davey said: "The price of metal in the global market is increasing and this means that it is a sought-after item by both opportunists and organised crime groups."
Inspector Jim Searle of Counties Manukau police said theft of scrap metal, particularly copper, was endangering the community.
"We have been successful in arresting several offenders lately but we can't rely on arrests alone to deter others. We also need to target dishonest and negligent purchasers."