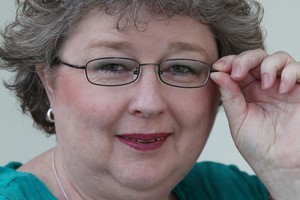 It is the leading cause of blindness in older New Zealanders but few people even know what macular degeneration is. And awareness and early intervention are the best ways to stop it progressing into blindness.
Macular Degeneration New Zealand estimates that nearly half of all blind New Zealanders aged over 50 have lost their sight because of macular degeneration. The condition affects about 25,000 people in New Zealand.
Professor Philip Polkinghorne, a retinal surgeon, is concerned at the lack of awareness of macular degeneration and that the condition is often preventable.
There are two types. The wet form is caused by abnormal blood vessels growing into the centre of the retina. The changes in vision this causes happen extremely quickly and immediate medical attention is crucial. The more common dry form involves a thinning of the retina and a much more gradual change.
People with severe macular degeneration are legally blind because they cannot drive, read, watch TV or recognise faces.
Macular Degeneration chairwoman and opthalmologist Diane Sharp says it is particularly vicious because the part of vision lost is critical to a full lifestyle.
Almost $1 million was spent on hospital treatment in 2009 and lost earnings cost the country $112 million that year.
Sharp says people should protect their eyes from glare by wearing sunglasses, stop smoking, eat well and cut alcohol intake.
Polkinghorne says antioxidants can help fight the condition and an over-the-counter treatment, containing high levels of antioxidants and zinc, has shown good results with some patients.
The treatment for wet degeneration is publicly funded and involves a drug injected into the eye. Polkinghorne admits the thought of a needle in the eye distresses some people, but "if it can keep them driving, or working, they are keen on that".
Because macular degeneration often affects the elderly, people put it down to "just being old" and delay asking for help. An early indication of the condition is that straight lines look crooked, Polkinghorne says.
The organisation distributes an Amsler grid that allows people to test each eye to make sure that they are still seeing straight lines. It is available through optometrists or from the organisation itself.
TIPS FOR GOOD EYE HEALTH
* Test your eyes regularly with an Amsler grid and if you notice changes consult your optometrist immediately.
* Have your eyes tested and make sure the macula is checked.
* Don't smoke.
* Control your weight and alcohol consumption; exercise regularly.
* Eat oily fish (salmon, tuna, sardines) two or three times a week or take an Omega-3 supplement); eat dark green leafy veges and fresh fruit daily and a handful of nuts a week.
* Limit your intake of fats.
* Protect your eyes from sun, including when young.
MINOR MISHAP LED TO MACULAR DIAGNOSIS
Lynette Gray was 40 when she discovered she had macular degeneration.
"A lot of elderly people get it but mine was hereditary."
The 47-year-old administrator from Hamilton found out by accident after something flew into her eye and scratched her cornea. Her specialist noticed bleeding at the back of her eye and said: "I'm sorry, you've got macular degeneration."
Her mother and grandfather had macular degeneration so Gray knew there was a possibility she would get it too.
"I thought, 'Well I've still got my other eye', but he said what I had would affect both eyes."
Gray had the option to have the eye lasered at a public hospital or go for private treatment that was designed to save more of her sight. She chose the private treatment. "It was quite aggressive but, in the end, it didn't save my eye."
Two years later, macular degeneration affected her other eye. "I drove to work, turned on the computer and then couldn't see."
Her central vision had gone and, when she picked up her cellphone, she could not see the numbers. She immediately went for treatment and injections eventually restored her sight in that eye.
She now goes to Auckland every month for the injections, although she knows her sight will eventually go in that eye, too.
"As soon as the vessels in the centre of the eye go, that's it."
Gray says it is important that people realise how quickly they need to act if they have any signs of macular degeneration. "It's critical that as soon as you see something abnormal you get immediate attention and don't 'leave it 'til next week'."
If she had not sought immediate assistance, she would now be legally blind. As it is, her macular degeneration does not affect her lifestyle too much, although she has to be careful driving at night when "things look slightly closer than they really are".