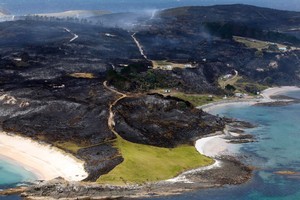 The family of the helicopter pilot killed in the Far North bushfire tragedy want the firebug responsible to own up to the devastation.
John "Prickles" de Ridder and Department of Conservation staffer William "MacGyver" Macrae both died when the chopper they were in plunged into sea off the Karikari Peninsula on Wednesday evening.
Police believe they know where the fire started and are interviewing locals to hear about issues and problems in the remote spot.
Mr de Ridder's wife yesterday pleaded with whoever lit the fire to admit to it.
"I would like to think they would come forward to take responsibility for their actions. That's all I can say. Nothing will bring Prickles and Willy back," Carol de Ridder told 3 News.
"I went off to work on Wednesday morning about 9.30am and it was like every day. 'I love you darling. Have a good day' is what he said to me and 'I'll see you tonight'."
She was sad she would not get another 20 years with her "hero". "He always thought of other people before himself. And he just lived for flying."
Daughter Helen de Ridder said her father was doing what he had to do to help people in need.
"They were screaming for help. What do you do? Leave people there to burn? If that fire was lit deliberately, they will find out and karma will come."
Mr de Ridder's boss Grant Harnish told the Weekend Herald the country had lost an exceptional man.
"There are a lot of people who owe a lot of gratitude to him. He was a quiet, unassuming man who never expected anything. He certainly displayed that on Wednesday night and unfortunately that one didn't pan out."
Mr Harnish called him a "rock".
"Whenever you needed help with something he was always there. He was a true gentleman. He never once introduced himself to someone with his hat on, he would always take his hat off."
His family, friends and co-workers were now struggling with "how to fill the void" of him not being there.
The other man killed in the crash, DoC worker William Macrae, was regarded as one of the best people to work out how to battle a wildfire and deploy resources.
Friend Trevor Bullock had known him since the 1980s when they volunteered for the Kaitaia fire brigade together.
"Even then he stood out with his ability to look at something and figure out how to make it better," Mr Bullock said.
He was dubbed "MacGyver" by friends because of his ability to look at a situation and understand what was needed.
After the mass whale strandings in the Far North last year, Mr Macrae invented and built his own marine mammal lifting frames to make it easier and less stressful to move stranded mammals.
Mr Bullock said his mate was a perfectionist by nature. "There was one way to do things and then there was William's way. But if you learned his way, it stood you in good stead. You came away with great skills."
Alan Macrae said his brother was a rough diamond.
"He was famous for being blunt - you had to see through the surface because underneath was puregold."
Fire investigators and detectives will make their way into the scrub once all the hot spots have been dampened.
Northland District Commander Superintendent Russell Le Prou said the focus was finding out how the fire began.
"We are looking for evidence of whether the fire was deliberately lit or an accident. We think we have an idea of the general vicinity where it started."