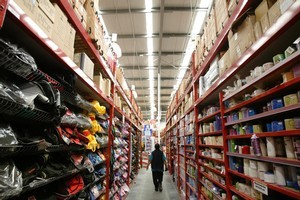 A mum and daughter were unjustifiably sacked from the Warehouse - for giving a close family member a $4 discount on two DVDs.
Elaine Weti and her daughter Judith O'Brien had worked at the Warehouse for 31 years between them but were quickly sent packing when managers caught them using a staff discount card without authorisation.
Now, the Employment Relations Authority (ERA) has ruled the bosses of the Gore store were heavy-handed in their reaction to the indiscretion.
The two sales assistants have been awarded thousands in lost wages, and $1000 each in compensation for the "humiliation, loss of dignity, and injury to feelings".
Ms Weti, 69, and Ms O'Brien, 46, were sacked in April last year for using their staff cards to get a $4.62 discount when Ms Weti's son, Stephen came into the store to buy two DVDs worth $37.
Store manager Kylie Machon discovered the transaction and concluded it amounted to a "serious breach of trust".
She said: "The rules surrounding discounts are strict and we enforce them strictly. Giving a discount against the rules is the same as putting your hand in the till and taking the money yourself. The company loses the money just as though it was stolen."
The Warehouse claimed both dismissals were justified as the result of a loss of trust and confidence in the workers.
But ERA member Michael Loftus concluded that sacking them was not a decision a "fair and reasonable employer could make".
He said Ms O'Brien accepted she had made a mistake but did so unintentionally and without thinking.
Mr Loftus ordered the Warehouse to reimburse Ms O'Brien $5,966.75 in lost wages and $1000 in compensation.
He also ruled that she be reinstated to the position she occupied prior to dismissal.
But her mum didn't get her old job back after failing to admit she did wrong or show remorse.
However, she was granted $3,689.40 and also $1000 in compensation.
Today, Ms. Weti welcomed the ERA ruling and hoped it would help "clear her name".
The Gore resident told APNZ: "You make a mistake and that's it apparently. It was very harsh. I thought a warning would have been enough, so to get the sack was a bit much.
"I would have taken my old job back. But what I'd really want is to clear my name of any wrongdoing.
"I did use my discount card, but I thought it was okay for immediate family. I should have known better I suppose, but I never really did anything wrong."
- APNZ