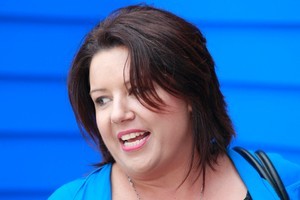 Labour's Waitakere candidate Carmel Sepuloni had plenty of fans in Glen Eden, Kelston and Ranui - but National's Paula Bennett pulled in the votes in Henderson, Swanson and Titirangi.
It was a close race between the two candidates and although Ms Bennett got the most votes with a 349 majority, more than 3400 special votes are still to be counted, which could make a big difference.
It seems that final result might just come down to what suburb people making the special votes are from, as the two leading candidates appear to have more fans in some areas than others.
After analysing the preliminary voting result for the Waitakere electorate, it is clear some suburbs have strong political links and voters have swung strongly towards Ms Bennett or Ms Sepuloni.
In Henderson's 11 voting centres Ms Bennett pulled in just over 4100 votes - 858 more than Ms Sepuloni.
But while nearly half of Ms Bennett's Henderson supporters voted at Western Heights School, voters weren't quite as convinced at two other centres where the votes were equally split between her and Ms Sepuloni.
They were Henderson High School (315 each) and Trusts Stadium (27 each).
Ms Bennett was also popular in Swanson where she won by 549 votes.
However, things balanced out because of Ranui voters.
Ms Sepuloni had 871 more supporters there than Ms Bennett and polled better at each of the suburb's four centres.
Ms Sepuloni was also popular in Glen Eden where she took a 798 lead.
On election night Ms Sepuloni led the race for a good part of the evening but as the night progressed and the results from the final few booths came in, things leapt in Ms Bennett's favour.
At one stage she was 1000 votes ahead but the final booth changed that back to just 349 votes.
Former West Auckland mayor Bob Harvey believed both women had worked hard for their votes and had done well.
He said the west was traditionally a very red area, but things had changed in the past 10 or so years and that was now reflected in people's political views.
"The west was once struggle country and now it's more affluent, it's more positive and it's very comfortable in its skin ... and with that comes a change of political values. They tend to think that maybe the class of National feels more comfortable with their newfound status."
However, he said there were still very strong pockets of Labour supporters in the west, but no vote was a given and Ms Sepuloni still had to work hard for each of the votes she did get.
He thought part of that was being able to relate to the strong Pacific and Maori community, especially in suburbs like Ranui, where she did well.