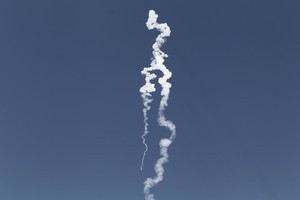 A civilian pilot risked being bombed by an Orion in February after flying through the Kaipara Air Weapons Range, the Civil Aviation Authority's magazine has revealed.
An Orion was conducting a bombing run on the morning of February 28, when a light aircraft entered the range, Royal New Zealand flight safety officer, Squadron Leader Rachel James, wrote in the latest issue of Vector magazine.
The plane was spotted by the range control officer approaching from the north at 1250 feet, Squadron Leader James wrote, and the Orion responded by ceasing the bombing run and climbing to 3000ft.
Squadron Leader James said the pilot was lucky, and had the range control officer not been so alert, the situation could have been different.
The incident served to show the danger of flying into the active military areas like Kaipara, Waiouru and the Manawatu.
"We conduct many activities at Kaipara. These include bombing, flares, helicopter gunnery, surface-to-air missile firing, explosive ordnance disposal, and simulated surface-to-air rocket attacks as part of tactical flying exercises," she wrote.
Squadron Leader James warned aircraft entering these areas could be struck by falling munitions or more likely damaged by fragmentation from an exploding bomb.
Also shockwaves from explosives disrupt airflow and could cause a aircraft to deviate its course.
"There is also the possibility of distraction due to the bright flash of an exploding bomb or flare and sand particles being kicked into the air."
The pilot involved has not been traced, but Squadron Leader James assumed the pilot had failed to check the Notice to Airmen warnings, which are issued whenever a military area is being used.