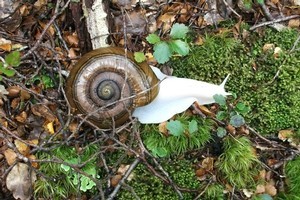 A rare white snail has been found by trampers, delighting one expert who has not seen one of the creatures for two decades.
The giant, meat-eating albino Powelliphanta snail was spotted by members of a Waimea tramping club in the Kahurangi National Park, west of Nelson.
Tramper Bill Brough said the snail had off-white flesh, the colour of a Milky Bar.
"Our group had seen three or four snails already that morning as it had rained and they'd come out in the wet conditions. Then I saw the white snail and went wow!
"We were excited to see it, knowing how extraordinary it was."
Powelliphanta snails usually have deep black-coloured flesh, but this snail had a genetically inherited defect in the enzyme that produced melanin, and therefore had glowing white skin. Its shell was normally-coloured, with golden-brown spirals.
Department of Conservation snail expert Kath Walker said the snail looked around 10 and she was amazed it had survived for that long because it would be easily spotted by predators, such as weka.
The Powelliphanta are the giants of the snail world, and can weigh up to 90g.
The species are native to New Zealand and are found on the Arthur and Lockett Ranges and near Takaka Hill in the South Island.
They are listed as being of national conservation concern.
GREAT WHITE GASTROPOD
Albino Powelliphanta Hochstetteri Hochstetteri
* Carnivorous, with a taste for earthworms.
* Glowing white skin caused by genetic defect which stunts production of melanin.
* Giants of the snail world, with fist-sized shells.
* Native to New Zealand, and endangered because of introduced pests - possums, rats, pigs and thrushes.
* Found on forest floor in the top half of the South Island.
Lifespan of up to 20 years.