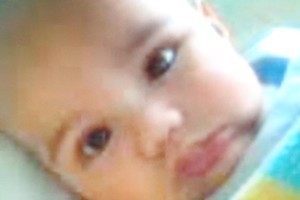 A mother has described how she had to watch her baby boy "look dead" for a week after he was allegedly shaken so violently by her boyfriend that he later died.
James Hemana is on trial in the High Court at Auckland for the murder of 6-month-old Cezar Taylor. He has pleaded not guilty but has admitted failing to provide the necessaries of life.
A DVD of a police interview with Cezar's mother, Victoria Taylor, was played to the court yesterday. The interview took place while Cezar was fighting for his life in the Starship hospital. He did not recover from severe head injuries and died shortly after his life support was turned off in July last year.
In the DVD, Ms Taylor demonstrated to Detective Jamie White how Hemana grabbed the baby by his top.
"It was like punching his chest and he just shook him really, really rough ... That scared me because Cezar was screaming and I think he wanted me to hold him to make him feel safe but James wouldn't let me."
She said that on another occasion, Cezar was lying on a bed and crying when Hemana got angry and lifted the child by his leg.
"He lifted him up, shook him, dropped him, picked him up, shake, shake, shake and drop him."
She said Hemana stopped her from taking her son to see the doctor.
"I had to stay there and watch my baby look dead for a week."
She said Cezar had been an alert, talkative baby but his condition changed after the attacks.
"Come Tuesday, he wasn't moving much, just sitting around ... As the week went on, he couldn't look and couldn't see. He looked like a zombie."
Ms Taylor also told police that she never saw Hemana hit Cezar but did find bruises on his forehead and his legs.
Earlier yesterday, she gave evidence by closed-circuit television that she saw Hemana put Cezar in his baby walker before slapping him on the back of the head three times. The smacks caused Cezar's head to go forward and hit the tray and toys on the walker.
"I said: 'What are you hitting my son for? He's only crying because he's hungry.' [He replied:] 'I don't give a f***, he woke me up."'
Ms Taylor said Cezar screamed, which made Hemana more angry.
"He wrapped him in the blanket and dropped him in the cot. He grabbed a pillow to shut him up."
Ms Taylor said Hemana dropped the baby from about chest height into the cot.
The court was told Ms Taylor had initially been treated as a suspect because she told medical staff the baby had fallen forward and banged his head on the floor.
Detective White said under cross-examination that police had "concerns" about what Ms Taylor told medical staff.
- APNZ