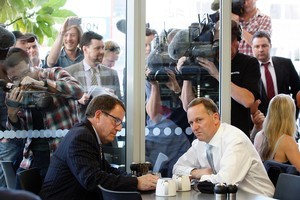 Radio New Zealand has given police an audio copy of an interview with the "teapot tape" cameraman after being served a search warrant this afternoon.
The broadcaster handed over the unaired Checkpoint interview with Bradley Ambrose but said it did not have a copy or transcript of the conversation between Prime Minister John Key and Act MP John Banks recorded by the freelance cameraman.
"Following discussions with the police about the scope of the warrant, and after considering legal advice, Radio New Zealand has provided an audio copy of the Checkpoint interview, which was recorded for broadcast on November 14.
"Radio New Zealand will continue to refuse to provide information relating to private conversations, notes, or any material that could breach confidentiality or compromise its sources," it said in a statement.
Mr Key lodged a complaint with police after the recording of his Newmarket cafe meeting with Mr Banks was passed by Ambrose to the Herald on Sunday.
Ambrose said he made the recording accidentally when he and other media were hustled out of the cafe so fast he did not have time to pick his recording device up off the table.
Mr Key likened it to the News of the World hacking scandal, angering the victims of phone hacking at the hands of tabloid journalists.
Three media outlets - TVNZ, TV3 and the Herald on Sunday, have already had visits from police investigating Mr Key's complaint that the recording was obtained illegally.
The search warrants were executed last week after Justice Helen Winkelmann, in the High Court at Auckland, declined to make a declaratory judgment on the legality of the recording as it would amount to a "mini-trial" in advance of the police investigation.