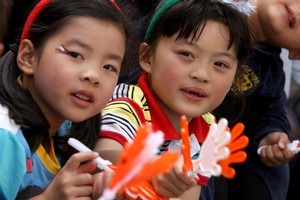 Christmas is fast approaching and although the Farmers Santa Parade has been and gone, dozens of other parades, carol events and festivals have been planned around Auckland.
In West Auckland, organisers of the Te Atatu Peninsula Christmas Parade, which will be held on Saturday, are preparing for a big turnout.
Crowds of about 25,000 people are expected for the weekend's event, which includes free rides for children.
Some of the most popular rides available include the vertical jump as well as the big ball in which a person is put inside an inflatable ball floating on water.
One of the organisers, Rachel Van Hoeve, said they had received grants, donations and funding from all kinds of sources including community groups and local businesses.
One of the bigger companies to come forward was Douglas Pharmaceuticals, which donated towards prizes for the best floats on the day, she said.
Many of the companies providing the entertainment also offered their services free of charge.
"We have people coming all the way from South Auckland because of the free rides," Ms Van Hoeve said.
"And those rides are very popular - it would cost you about $10 to go on them normally."
The Papatoetoe Santa Parade, one of Auckland's biggest, drew big crowds last night.
The parade was expected to attract up to 30,000 people.
It was pitched as a "uniquely South Auckland Christmas experience", featuring Punjabi cultural dancers, Tongan drummers, cheerleaders, vintage cars, brass and pipe bands and Pacific church group performers.
More traditional characters and icons including elves and fairies, dancing Christmas trees and the main man himself - Santa Claus - were a big hit.
Organiser and local primary school teacher Angela Cave said the diverse nature of the parade meant it was particularly popular and people turned up from all parts of Auckland.
"It's a real reflection of our community. We've got a variety of groups and clubs, churches, youth organisations, girl guides and scouts - even SPCA dogs dressed up in Christmas costumes."
Miss Cave had been organising the parade since June and said funding from community groups and local businesses had been a life-saver.
She said a "substantial amount" of funding for the event had come from the Otara-Papatoetoe Local Board, but they had also received grants from various businesses and other sources, including the St George Charitable Trust, which gave about $1000.
"We got started very early on in the year and there were lots and lots of phone calls and bookings for bands, the people who close the road for you, face-painting and balloons," she said. "It's been hectic."
Parades and events around the city will be held each week up until Christmas Day. For more information visit aucklandcouncil.govt.nz.
CHRISTMAS IN AUCKLAND
* 20 Santa parades.
* 22 Christmas carol events.
* 17 other Christmas festivals and events.