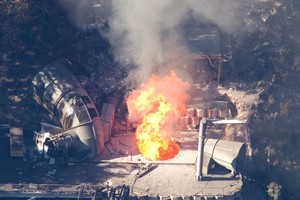 A miner has alleged a Pike River-level disaster has been avoided at the Huntly East Coal Mine after a dangerous level of gas was detected.
The worker, who did not want to be named to protect his job, told the Waikato Times explosive levels of gas were found while 40 men were working underground earlier this month.
"It was a Pike River ready to go," he said.
He described the mine as a "time bomb", and with methane levels at 5 per cent all that was needed was an ignition source for an explosion.
The miner claimed there was a lack of experience among management, as experienced staff have left for Australia.
Solid Energy chief operating officer Barry Bragg confirmed to Radio New Zealand there had been higher than usual methane levels detected after miners struck a geological fault, but standard procedures were implemented.
This involved removing the workers from the mine and using an auxiliary fan to ventilate the mine.
"As soon as methane in any place hits 1.25 per cent our controls kick in and we begin degassing that area of the mine," he said. "During the degassing procedure the methane got as high as 5 per cent. The explosion range is from 5 to 15 per cent."
Mr Bragg said there were no workers in the area where the methane reached 5 per cent and the event was "under complete control".
"This is a very rare event for the Huntly East Mine. We hit a fault, we have not had this sort of event over the last 12 months.
"This occurred over five days in mid-November and we controlled the levels of methane at that place over the period of time. So we don't have that event occurring beyond the 15th of November."
Mr Bragg said there had also been a "non-compliance" incident involving two experienced workers during the degassing procedure, but miners' lives were not put at risk.
The incident is being investigated, he said.
An internal investigation has been launched, as has been a Labour Department investigation.
EPMU national mining advocate Ray Urquhart told Radio New Zealand the union will meet with Solid Energy on Friday, but there had been no immediate fears for workers at the incident earlier this month.
"There's no doubt there was an incident that was reported. It's fully under control. Mine management are investigating it, there is an investigation as we speak going on now.
Mr Urquhart said the union was involved in the investigation, but he did not have many details over the incident.
"My understanding is there was a higher than usual gas reading. I understand it was near a fault, which would normally raise levels of methane."
It's just over a year since a gas blast in the Pike River coal mine near Greymouth killed 29 men.
Earlier this month the country's sole mines inspector told the Royal Commission of inquiry into the Pike River disaster he had been told by Huntly East mine staff they did not want him to conduct impromptu visits as they did not have the staff to take him underground.