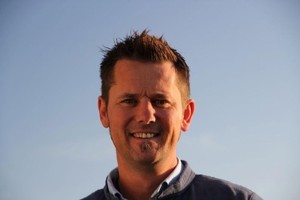 A man has admitted causing the crash that killed an Auckland man driving his wife, pregnant daughter and baby grandson home from a family dinner.
But he has no recollection of the crash, other than the "scary" moment leading up to it.
Duncan Meek, 41, pleaded guilty to a charge of aggravated careless use of a vehicle causing the death of Petelo Fa'aeteete on June 30, when he appeared in the Auckland District Court on Monday.
It was Meek's first appearance on the charge and his first time before the courts.
The company director faces a maximum fine of $10,000, up to three years in prison, and will lose his licence for a minimum of one year.
Mr Fa'aeteete, 52, was driving his wife Aida, daughter Karen and her 6-month-old son Peter home from dinner in the city.
Miss Fa'aeteete was three months' pregnant at the time.
Court documents released to the Herald yesterday outlined the horrific crash. The police summary said Meek was driving his Holden south on the Southern Motorway just outside the CBD at 8.50pm. The speed limit for that stretch of motorway is 80km, but an examination of the airbag control module in Meek's car showed he was travelling at 112km/h.
"I was in lane one and I started to overtake a car, but as I moved into lane two I saw a truck bearing down on me so I thought I had better move back into lane one," Meek told police.
"At that point it all went a bit scary, and I have no recollection of what happened next, until I recall being sat in my car getting my bearings."
Police said that as Meek approached an "easy right-hand bend", he drifted from the outer-most lane across the one to his right. His vehicle collided with a Honda driven by Steven Yousif, which then slammed into a Nissan driven by Jaiquan Wu.
Meek then collided with Mr Fa'aeteete, who was in the inner lane, causing his Toyota van to roll two-and-a-half times.
As the van rolled, Meek's Holden hit a concrete barrier before his car came to rest across two lanes.
Baby Peter, who was in the back with Miss Fa'aeteete, was thrown from the vehicle and landed about 5m away on top of a pizza box. He was in his carseat, which Miss Fa'aeteete had unbuckled to make him more comfortable. The child was uninjured.
His grandfather died almost instantly. He had been holding hands with Mrs Fa'aeteete when the vehicles collided. She was trapped above him, begging him to hold on and telling him not to leave her.
Police said Mr Fa'aeteete was not wearing a seatbelt and died of blunt trauma to his head and neck. The crash was captured on camera by a couple driving behind Meek and the Fa'aeteete family. They gave that footage to police soon after.
Meek told police he was not using his cellphone at the time of the crash and had not been drinking.
His lawyer, Sheila McCabe, said Meek was "deeply saddened for the family of Mr Fa'aeteete".
"He has been devastated as a result of being involved in this accident," she said. "His speed and/or his lapse of concentration on the evening of the accident resulted in tragic consequences and he has told the court that he accepts responsibility for that.
"Duncan entered a guilty plea on his first court appearance so that he could acknowledge that responsibility at his first possible opportunity and end the uncertainty for the family of Mr Fa'aeteete."
Meek will be sentenced in March.