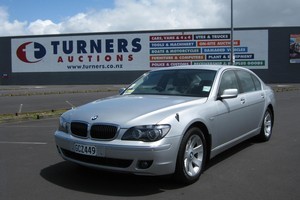 The ministerial BMW used for chauffeuring Prime Minister John Key over the past three years is going under the hammer in Turners' Prestige Auction.
The 2008 BMW 730LD is among five ministerial BMWs that will be sold next Monday at Turners Auctions' Penrose branch.
"We were blown away by the public interest in the government BMWs at the last tender and with the Prime Minister's car up for auction we expect even more interest this time around," says Turners Auctions chief executive Graham Roberts.
Key's vehicle has less than 48,000km on the clock and has been regularly serviced by the Ministry of Internal Affairs.
With extra legroom in the back and a 3-litre diesel engine that uses only 7 litres for 100 kilometres, the vehicle would suit limousine hire or a VIP taxi service, suggests Turners, who expect the BMW to fetch between $62,000 and $68,000.
"The opportunity to buy a Prime Minister's vehicle is extremely rare, so we expect collectors to be particularly interested in this one," Roberts says.
Other stately vehicles in the auction include a 1967 Rolls-Royce Phantom and a 2000 Bentley Arnage.
For those after muscle rather than sophistication, there is an impressive line-up of American vehicles, including a 2007 Ford Mustang Shelby GT500, two Ford Mustang GTs (2005 and 2006), and three 2010-2011 Chevrolet Camaro 2SS/RS coupes.
Bidders can view at Turners Penrose branch, corner of Penrose and Leonard Rds, tomorrow from 5.30pm to 7.30pm, or the cars online at turners.co.nz