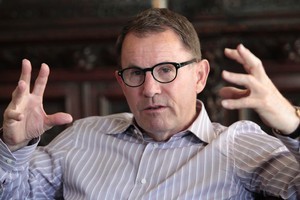 John Banks is hoping for a ministerial post when he returns to Parliament after an absence of 12 years.
Mr Banks turns 65 on Thursday and has no intention of signing on for the pension or a SuperGold Card.
The sole Act MP is ambitious for a ministerial posting in exchange for supporting a John Key-led government on confidence and money supply.
On Saturday night, Mr Banks defied the polls by winning Epsom with a majority of 2485. The victory ensured the blue-ribbon seat had two local MPs - Mr Banks and National candidate Paul Goldsmith, who gets into Parliament as a list MP.
Yesterday, a relieved and tired Mr Banks outlined his plans for Parliament and breathing new life into the Act Party, which scored a miserly 1 per cent of the party vote - not enough for party leader Don Brash to join him in Parliament.
Mr Banks, who will meet outgoing Act parliamentary leader John Boscawen and Prime Minister John Key today to discuss the shape of the Government, said Mr Key raised the issue of a ministerial post in a telephone conversation yesterday.
There had been much chatter about local government, he said, but he had his eye on macro-economic policy as it affected small business and employment opportunities for youth.
Mr Banks said if he was offered an appropriate role in the Executive he would accept it, but clearly understood he needed to put his shoulder to the wheel to help restructure, rebuild, rebrand and relaunch a new party that may not be called Act.
Former Act MP Deborah Coddington said Mr Banks should stay out of the Executive and concentrate instead on rebuilding the party.
Mr Banks, who hardly mentioned the Act Party or its policies on the election hustings, received a rousing applause from about 200 Act supporters at the Barrycourt Motor Inn in Parnell on Saturday night when he spoke of "keeping the Act Party dream alive", particularly for the small army of Act on Campus acolytes who campaigned in Epsom.
Yesterday, Mr Banks defended his decision to go with Act after being a National Party member for much of his life, saying when he went to Parliament 30 years ago the philosophies and principles of the National Party were where the Act Party was today.
"With the advent of MMP 15 years ago, the National Party has shifted quite a lot of ground to the centre and the Act Party is where the National Party was before MMP."
But he did acknowledge his own conservative social views were at odds with the liberal social views of many Act members, although there was little difference on economic issues.
Mr Banks said there would be challenges on issues such as liquor law reform - he's signed up to Sir Geoffrey Palmer's blueprint for liquor reform. "Some of the young people from Act on Campus [won't] share my views."
Mr Banks, who served two terms as Mayor of Auckland City, said he would focus on Auckland infrastructure, including the $2.4 billion inner-city rail link.
He believes Auckland Council will need special legislation for the project to avoid a credit rating downgrade and hitting the pockets of ratepayers.
14,150 John Banks (Act)
11,665 Paul Goldsmith (National)
3093 David Parker (Labour)
1670 David Hay (Greens)