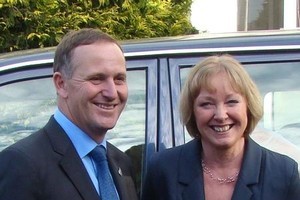 The Oamaru Opera House rang with the crackle of party poppers as National MP Jacqui Dean successfully defended her electorate.
Mrs Dean won with a crushing tally of 21,404 votes, giving her a majority of 12,963 and ushering in her third term as Waitaki MP.
Labour candidate Barry Monks won the second-highest tally with 8441 votes.
Next was Green candidate Sue Coutts with 3392 votes.
The atmosphere at Mrs Dean's celebration was relaxed at first and became more boisterous as the result became clear.
Mrs Dean said the victory exceeded her expectations.
Having been the Waitaki MP for two terms she knew she would be judged on her performance and thought the result reflected the care she had taken to treat the concerns of every part of the district as equal.
She vowed to continue to be a strong advocate for Waitaki in Parliament.
"I was judged by the people of Waitaki and this result gives me the confidence to represent them again," she said.
Mrs Dean said the largest issue of concern for Waitaki residents she had spoken to was the proposed National Government asset sales.
She said once she had explained that only 49 per cent of the assets would be sold and the proposed sales covered only 3 per cent of the nation's assets they were not worried by the idea.
Mrs Dean said she appreciated the contest of ideas with the other candidates and thoroughly enjoyed competing with them in public meetings.
She had no word of whether she would be offered a ministerial portfolio but believed she was qualified to hold a position on either the environment or local government.
Labour candidate Barry Monks said he thought he had done everything he could in his campaign.
He spent a relaxing election day cutting grass before casting his vote at Pembroke School.
He said fuel bills had been a bit of a problem with more than 15,000km racked up by the end of the campaign.
The only criticism Mr Monks had of the campaign was there had not been as many public meetings as he would have liked to "practise his public speaking" against other candidates.
Mr Monks was on his way to Dunedin to mark election night with other South Island Labour candidates after the results became clear.
- APNZ