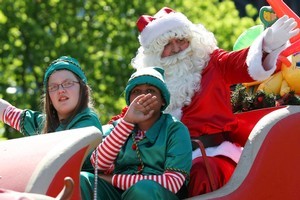 Where is a good vantage point to see the man in red today?
Some central Auckland eateries were charging for a front-row view of the Santa Parade, but one Albert St carpark was offering high viewing space for a donation.
Patio Restaurant on Queen St had possibly the best seats and was charging $45 each for adults and $30 for children for a balcony seat and two-course meal. It was fully booked by early this week.
Shakespeare Tavern and Brewery was charging $40 for a balcony table overlooking Albert St, and was also booked out. Up Stairs Cafe and House Bar at Quay West hotel also has a balcony overlooking Albert St and was booked out.
After being asked by the Herald on Sunday, Tournament Parking decided to offer an Albert St carpark to families.
"We think it's a good idea," Tournament general manager Dale Clements said. "We will cone off all the bays that overlook the street. There will be loads of viewing space."
He asked people to take a can of food to donate to the City Mission, and to enter the carpark from Durham Lane. However, Wilson Parking nearby said it did not want children in its Albert St carpark.
On Mayoral Drive, Rendezvous hotel's balcony overlooks the parade route, hotel business development executive Lindsay David said, and there was no booking fee.
Santa Parade event manager Pam Glaser said the earlier people arrived, the better to find a spot to watch. She asked spectators to let children stand in front of adults, behind the blue honour line.
"My hopes for the day is that everybody just loves the parade." Inner-city roads are closed from noon to 4pm.
Living magazine contains a full guide for today's parade.