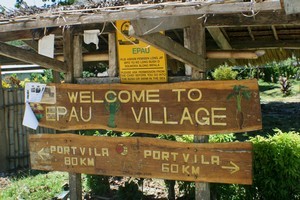 Child indecency charges have been lodged against a New Zealand man in Vanuatu.
Aron Collins, 41, has been charged with two counts of indecencies with boys aged 10 to 12 last month when he was living in a tent in a remote village on the island of Efate.
If convicted, Collins - who Vanuatu police say is from Takapuna but has been living and working in Australia as a social worker - could face up to 10 years in prison.
He is on bail and has been ordered to remain in Vanuatu. The New Zealand High Commission has confirmed it is providing consular support.
Senior Sergeant Davis Saravanu, officer in charge of Vanuatu's family protection unit, told the Herald on Sunday the alleged incidents took place in the village of Epau between October 22 and 25, and Collins was arrested on October 28.
"He was touching the boys and the boys were touching him," said Saravanu, who did not know where in Australia Collins lived.
It was illegal in Vanuatu to commit an act of indecency with a person aged under 13.
Collins' lawyer, Saling Stephens, said there was no evidence against his client.
"I'll be advising him to plead not guilty on all the charges. But at the moment we are waiting for the continuing investigation by the police."
He said it looked like most of the allegations were "just rumours".
"For the police to prove a case of indecent assault, there has to be evidence coming from someone over 18 years. It can't just come from kids saying 'he was touching me'.
"That's not the law. Eighteen is the age when a person is regarded as an adult and can properly make a decision as to what's right and wrong."
However, Alan Bell, executive director of Ecpat NZ, an organisation which aims to prevent the sexual exploitation of children, didn't believe a child's age affected his or her ability to make a complaint.
Vanuatu had ratified the United Nations Convention on the Rights of the Child, which protected children from any form of sexual exploitation.
"Each case should be received and investigated and a decision reached on evidence produced - not on the necessity to have an adult verify the complaint."
Collins will appear in court on December 13.