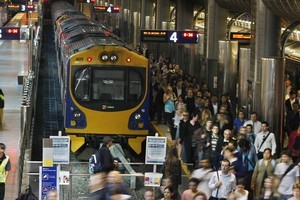 Freeloaders on Auckland trains will find it tougher to evade paying when a new ticketing system is installed next year.
Auckland Transport communications manager Sharon Hunter said people would be able to use HOP tickets on trains by the middle of next year.
She said main train stations Britomart and Newmarket would be gated, "hence harder for people to pass through and exit without a valid ticket or HOP card".
Roving train staff would also be carrying hand-held devices with which to check that people had paid.
Prices had not been finalised for HOP train travel, but Hunter said at present a 10 per cent discount applied for people paying with HOP cards.
Hunter said a trial of the integrated HOP card across trains, ferries and buses would begin next month.
Veolia customer service manager Nick Orange said 2 to 3 per cent of passengers did not currently pay for their train rides.
A survey was undertaken last Tuesday in which passengers' tickets were checked before they could leave key Auckland stations.
"Although the figures are relatively low, we are concerned about fare evasion as the revenue we collect via train fares goes directly towards maintaining the fleet and the rail network, as well as funding improvements such as new electric trains," Orange said.
He added that fare-evasion levels had dropped recently, although patronage on Auckland trains had increased from 8.9 million last year to 10.8 million this year for the 12 months ending October 31.
"Customers are very understanding," said Orange, "and fare-evasion rates have fallen since we began regular monitoring."