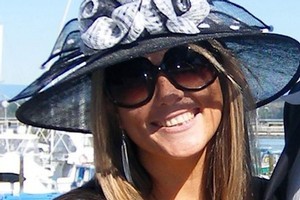 Carmen Thomas was known for her love of partying, her dazzling smile and her effervescent personality.
The 32-year-old was dedicated to her young son, and to having as much fun as possible. She was kind, confident, articulate, intelligent, attractive, friendly and bubbly.
Carmen wasn't afraid to live her life, she wasn't scared of anyone and she had a way of making people feel comfortable in her company. But behind the smiles, the laughter and the jokes was a woman hiding personal pain and insecurities, a woman who craved attention and who could be difficult, volatile and with a tendency to go off the rails.
Carmen was born in South Africa but moved to Britain to live with family at 16. Court files reveal she did not have a good relationship with her mother and was regularly sick - often exaggerating her condition or admitting herself to hospital to get attention. She often told people she had been treated for bowel cancer in her mid-20s.
Court documents outline her rocky and sad childhood, and her mental health struggles.
Her father committed suicide when she was young, and she found out soon after he was not her biological father. Later, she was physically abused by her mother's new partner and went on to suffer from depression, panic attacks, suicidal thoughts and binge eating.
Her mother later married a man who would adopt Carmen. She adored him, even taking his last name, and was devastated when he died.
During her time in Britain, Carmen worked hard to get her life on track. In her mid-20s she enrolled at Southampton University where she studied marketing.
Her ex-boyfriend told police she was "confident but unstable". Paul Bentley met Carmen at university in 1999 and they dated for about three years.
He said she craved attention and her instability made it difficult for her to maintain relationships. Theirs ended but they kept in touch. Not long after, she met the man who would change her life forever - and end it.
Carmen started going out with Brad Callaghan - her "ultimate man", according to her friend Sofie Camili. She told Ms Camili that Callaghan was the love of her life.
"Carmen also spoke of him as the most attractive man she had ever met. Carmen seemed to be totally in love with Brad," Ms Camili told police after the murder.
She said Carmen was delighted when she became pregnant. But her relationship with Callaghan began to sour towards the end of the pregnancy.
Ms Camili told police: "Carmen became very emotional when she was pregnant with her son. "Carmen told me that Brad was out at night, she was finding herself insecure about this."
The pair - who met in Britain - returned to Callaghan's former home town of Auckland to try to start a new life. But the relationship didn't work and by 2008 they were sharing custody of their son Jack, each taking him for three days at a time. From all accounts, they had an amicable relationship.
Carmen moved in with her stepsister Colleen Ritson-Poole when Jack was about 3. The sisters had lost touch, but realised they were both living in Auckland and reconnected.
In an interview before Carmen's body was found, Mrs Ritson-Poole described Carmen as "dedicated 100 per cent" to being the best mother to Jack.
She said Carmen eventually chose to move into her own place in Remuera. But the court file shows another side to the sisters' relationship, with Mrs Ritson-Poole telling police she soon lost trust in Carmen after she moved in.
"Carmen would portray being a victim ... Carmen felt like everyone was bullying her and she was always the good one and they were the bad ones."
She asked Carmen to move out, saying she learned Carmen had turned to prostitution and did not want her daughter spending time with her any more.
Carmen and Callaghan continued to co-parent well, on the surface. But not long after their break-up, they started coming to the attention of the police.
The extensive police file revealed Callaghan laid a complaint of common assault after an incident on March 19, 2008. The argument is understood to have started over child maintenance payments. Constable Martin Barhman said in a statement: "Callaghan has bent down to kiss his son when Thomas has punched him in the back of the head. No injuries were caused. Callaghan then left the premises."
Carmen was later warned over her actions.