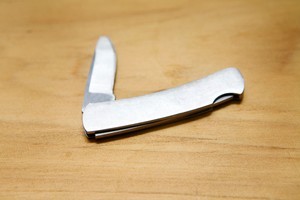 A teenage boy who took a pocket knife to school and used it on his friend to test how sharp it was made a stupid decision he is embarrassed about, says the school's principal.
Hamilton Boys' High School head Susan Hassall said the incident on Tuesday morning, to which police and paramedics were called, was a one-off which the friends now realise was foolish.
"It was very much just a one-off, silly incident where the wrong thing happened because of a stupid decision.
"They were just friends, there was nothing malicious in it at all."
Mrs Hassall said the two junior school students, who are best friends, were upset by the incident, which police called a timely reminder about the dangers of taking knives to school.
The incident unfolded shortly before 10am on Tuesday when the two students, aged 15 and 16, and a group of friends were talking about knives on the school field.
The older boy pulled out the pocket knife and said he wanted to test how sharp the knife was.
The 15-year-old volunteered his arm and his friend drew the penknife across it twice, the second time with greater pressure. The moderate injury landed the boy in Waikato Hospital's emergency department.
"They're both adamant it was their own fault," Mrs Hassall said.
She said the issue was dealt with quickly and satisfactorily by staff and students had been warned about the consequences of bringing knives to school.
"The boys know the rules and they've been reiterated."
It was the "first time ever" something of this nature had happened at the secondary school and it would be the last, Mrs Hassall said.
She would not comment on whether the student responsible for bringing the pocket knife to school had been suspended, saying it was a private issue between him and the school.
However, life had returned to normal for the injured boy who was "fine" and back in class.
"They're boys, they just wanted to see what happens. That's what boys do."
Hamilton Boys' High School has a roll of 2000 but senior students were on end of year exam leave.
Hamilton police referred the incident to Youth Aid and said that no charges had been laid but it was something they were considering.
Spokesman Andrew McAlley said police had established why the boy had a knife but he would not elaborate.
City Area Commander Inspector Rob Lindsay said police and the school were working together to educate pupils about the legal and safety implications of taking knives to school and that such behaviour was not acceptable.
"At the end of the day there appears to have been no malice involved but still this could have had even more serious consequences.
"We want our schools to be safe places to send our kids and we will be working to ensure they remain just that."