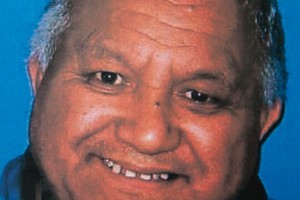 Retiring MP Jim Anderton has blasted New Zealand's legal system for "passing the buck" on a woman's long battle to retrieve the stolen body of her dead husband.
James Takamore was 55 when he died suddenly of an aneurism in 2007.
Before his wife Denise Clarke could bury him in his adopted Christchurch home, Mr Takamore's mother, her partner and a friend arrived and demanded to take his body to be buried at his ancestral home in the Bay of Plenty.
His body was taken from a Christchurch marae at night while Ms Clarke slept and taken back to the Bay of Plenty to be buried.
The Court of Appeal yesterday ruled Ms Clarke should have the right to decide where her husband is buried.
It ordered the matter back to the high court "to deal with the question of remedy".
Wigram MP and long-time Progressive Party leader Jim Anderton, who has supported Ms Clarke through her court battle, this morning told Radio New Zealand the law needs to stop family disputes over burials.
He said the courts were often "passing the buck" back to the family for ultimately futile mediation.
"This family has gone through the fires of hell and I feel very sorry for them, and I feel a bit ashamed by the fact that our legal process will not honour the tradition and culture of one group of people versus another."
Mr Anderton said the family's actions in the case were "tantamount to thuggery".
But academic Ranganui Walker told the station it was Maori custom for family to demand the return of their loved ones' body.
The home people can then either concede the body or defend their right to keep it, he said.
Ms Clarke's Christchurch family were on the back foot in the process as Mr Takamore's young son did not know Maori culture, he said.
Mr Takamore had specified in his will, of which Ms Clarke was executor, that he wanted to be buried but did not say where.
He had returned to the North Island only twice in 20 years and Ms Clarke wanted him to be buried in Christchurch.
Despite that, Mr Takamore's mother told the Court of Appeal she "decided to go and get him" as she was concerned Ms Clarke would remarry, the children would grow, marry and possibly move from Christchurch and "my son would be alone there".
The family believed it was Mr Takamore's wish that, if he was to die in Christchurch, he was to be taken back to the Bay of Plenty as he had "no land, no people and nothing down there" (in Christchurch).
However, a work colleague of Mr Takamore told the court Mr Takamore was "very blunt in his views that he would not return to the North Island, whatever the circumstances, and that his home was now in Christchurch".
The High Court ruled in 2009 that the Takamore family had taken the body unlawfully and that Ms Clarke was entitled to make the final decision on where he should be buried.
The Court of Appeal yesterday upheld that ruling and referred the matter back to the High Court.