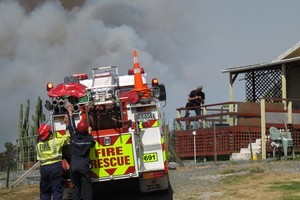 Light rain is expected in South Hokianga today where more than 100 firefighters are still battling Northland's worst fire in years.
But it's unlikely to be enough to dampen the blaze in White Cliffs forest, near Horeke, and will be accompanied by strong winds.
By 5pm yesterday the fire had spread to 343ha, but firefighters were confident it was contained, and were planning to start reducing the number of helicopters and bulldozers today.
The number of personnel, including incident management staff, support crew and firefighters from Department of Conservation (DoC), forestry companies and the Hihi rural fire party, would be kept at 102.
Principal rural fire officer Myles Taylor described the fire as fairly well contained: "We're aggressively reinforcing the line. It looks like we've got a fairly good noose around its neck.''
A few flare-ups had been hit hard and quickly. One was close to a home but it was not threatened.
Four helicopters on site were no longer flying constantly and would be reduced today to two. Heavy machinery would be reduced to two bulldozers and one digger.
Mr Taylor urged anyone considering lighting a fire to exercise extreme caution.
Meanwhile, MetService forecaster Ian Gall said rain was expected in Horeke this morning.
However, it would be accompanied by strong northwesterly winds, changing to a cooler southwesterly as the sky cleared in the afternoon. Only 2mm-5mm of rain was expected. "While it may help, it won't be a saviour,'' he said.
Firefighters did not expect the rain would have much impact. What they needed was "Greymouth-style'' rain, deputy principal rural fire officer Lance Johnston said.
The blaze is thought to have started on Monday when Community Max workers clearing a cycle trail tried to burn off cut vegetation.
For more articles from this region, go to Northern Advocate