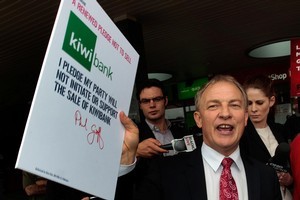 Little Edwin Laeli is usually pretty fussy about who gets to cuddle him but he seemed quite content in Labour leader Phil Goff's arms yesterday.
In return a very clucky Mr Goff told Edwin's mother how moments like this made him want grandchildren even more and how he could not wait for his own to come along.
The 1-year-old was one of several toddlers Mr Goff cuddled up to during a visit to the Fetu Taiala Aoga Amata early childhood centre in Mangere yesterday.
After sitting on the edge of the sandpit and chatting with 4-year-old Georose Lafaele the Herald asked the preschooler if she knew who the man in the suit was and she shrugged her head and said "no".
She was not the only one confused.
Soon after Mr Goff arrived he was welcomed by the centre's chairman Willie Greig who mistakenly introduced him to the crowd as "the right honourable Phil Geoff".
He later said he was "just nervous" when reading out his welcome from a piece of paper. "I looked at the name and saw Goff but said Geoff instead."
Mr Goff spent nearly an hour at the centre and said he was there because of the children.
"Everybody here knows that our children are our future and the reason Labour invested so much in early childhood education is because this is the most important learning time of your lives and we want every one of our children to get the best possible start - that's what New Zealand is about."
He then outlined child and family friendly policies such as returning to a 100 per cent qualified ECE teacher target, free medical care for all children under 6, removing GST from fruit and vegetables, increasing the minimum wage to $15 and putting more people in warm and dry homes.
Maria Ford, who has two children at the centre, said it was good to see Mr Goff there as she liked his policies "better than National's".
She said she paid $15 a week for each child to be in care, a cost that had increased from $10 a child as a result of National's ECE funding cuts.