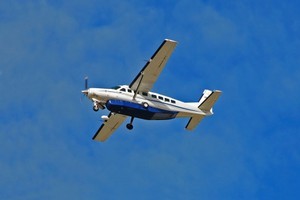 A New Zealand pilot critically injured in a crash that killed his co-pilot in a remote area of Indonesia has third degree burns, according to local media.
The New Zealander and a Spanish man were piloting the Susi Air Cessna Grand Caravan aircraft when it crashed while trying to land in West Papua yesterday.
Jakarta Globe editor Igor O'Neil told NewstalkZB today that they crashed after aborting a landing when they spotted a young girl walking on the airstrip at Sugapa.
He said the New Zealander was in a bad way after the plane hit a mountain and exploded on impact.
"He's been moved to a nearby town where he's being treated for third degree burns,'' he said.
The Spanish co-pilot died in the crash.
Papua police spokesman Senior Commander Wachyono told the paper the plane was attempting to land when it was forced to abort the landing because of the people on the runway.
"It tried to avoid [the people], went up again, and when it turned left it hit Wabu Mountain,'' he said.
Last night Susi Air said "Today an aircraft owned and operated by PT ASI Pudjiastuti Aviation, a Cessna Grand Caravan, was involved in an incident that resulted in one known fatality. Another crew member is reported as being in a stable condition.
"There are no other passengers or crew involved.''
The company said it would release the crew names once next of kin had been informed.
"At this time PT ASI Pudjiastuti Aviation does not want to comment any further on this incident except to state our sorrow at the loss of this life.
"Of course there will be an internal enquiry that will in no way interfere or impede the official process to determine the causes of this accident,'' said the statement.
"As this is now subject to an official process we are unable to make any other further statements until formal reports and procedures are completed.''
- APNZ