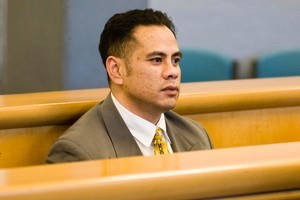 A man found guilty today of murdering an 80-year-old woman in her Auckland home had a history of violent home invasions.
Yan Ping Yang was found in her Manurewa home in June 2008 with 38 rib fractures, a broken bone in her neck, a broken sternum and a swollen face.
She was taken to hospital and died five days later.
Before her death she gave a statement to police, describing how a man grabbed her from behind before dragging her to her bedroom where she was kicked and punched.
Today's verdict, delivered after a retrial at the High Court in Auckland, was the second time Olinale Ah You had been found guilty of the same crime.
Ah You shook his head as the jury returned its unanimous verdict.
Mrs Yang was not Ah You's first victim and nor was she his last.
Court documents obtained by APNZ show that in May 2009 he was sentenced to 12 years in prison with a minimum non-parole period of eight years after pleading guilty to two charges of aggravated robbery and three of robbery.
One of the attacks happened while he was on the run from police, less than a fortnight after Mrs Yang died.
According to court documents, a 34-year-old woman was looking after her four-year-old when Ah You broke into her Mangere home on June 27, 2008.
Ah You told the woman he knew her husband and had come to get some money that was owed to him.
He pointed a pocket knife at her before grabbing her and dragging her into the lounge room where he put her in a headlock.
Ah You stole with jewellery, money and a cordless phone.
He was also involved in four other attacks. In one, in September 2007, Ah You and another man walked into a house in Clendon, south Auckland, where a tiler was working.
Ah You pushed over the tiler and continued to punch and kick him until he was dragged off by the other man.
The tiler suffered cuts and bruises to his head, a fractured skull and a broken knee that required surgery.
The jury at Ah You's first murder trial, in April last year, were told about the previous attacks and took just over two hours to find him guilty.
He was sentenced to life in prison with a minimum non-parole period of 20 years, a sentence that placed him among the country's worst killers.
But Ah You's lawyers took his case to the Court of Appeal which found the jury should not have heard the evidence of his past convictions and ordered a retrial.
Despite not hearing evidence of Ah You's past convictions, the jury today found Ah You had murdered Mrs Yang after deliberating for five hours.
In his closing address, Crown prosecutor Kieran Raftery told the jurors they were in a unique position because they had a statement that Mrs Yang gave police shortly before her death.
"Very few juries have that ability because very few victims have the opportunity to give their story before they are killed."
Ah You's lawyer, Shane Cassidy said his client did not kick, punch or stomp on her.
He said the injuries to Mrs Yang were caused after Ah You tried to put Mrs Yang in a wardrobe and closed the door on her.
Mr Cassidy said Mrs Yang had osteoporosis, a medical condition that weakens the bones. He said it showed that Ah You used only moderate force.
Justice Pamela Andrews told the jurors they had to consider what Ah You intended when he assaulted Mrs Yang.
Ah You will be re-sentenced next February.
- APNZ