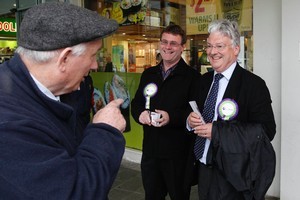 Having trodden Ohariu ground for the past 27 years, Peter Dunne is well-acquainted with many locals.
In just half an hour of campaigning at Johnsonville Mall today, the United Future leader bumped into at least 12 people he knew personally, and he was quick to agree there is no such thing as a short public outing with him.
"You often get stopped in the supermarket, in malls, in the petrol station - people who have seen you and want to talk."
Mr Dunne said he enjoyed the chats, particularly around election time, but his wife had taken to leaving him in the car when a quick errand had to be done.
While Mr Dunne has the lion's share of experience in Ohariu over his main electorate rival, Labour's Charles Chauvel, the race is expected to be tight on Saturday.
Mr Dunne's majority has slipped over the past few elections, and National's plan to help him by encouraging its voters to split their vote may have been thwarted slightly by the party's own Ohariu candidate, Katrina Shanks, who has not laid quite as low as Mr Dunne might have liked.
At the mall today, Mr Dunne was busy glad-handing potential voters, many who eagerly approached him before he could get to them.
"This is far warmer than three years ago," Mr Dunne told APNZ.
"Handing out pamphlets, I think we get, in a sort of half hour to an hour's stretch, one or two people saying 'I'm not voting for you'."
Mr Dunne disagreed with the suggestion this year's race was the tightest he had faced in the electorate, pointing out that the only public poll of the area had given him the same sort of lead as in the last election results.
"It's a good contest but there's plenty of life left in me yet."
However, Mr Chauvel, who was also at the mall today, said Mr Dunne's long spell in Ohariu could count against him in Saturday's election
"People are pretty much sick of Peter, not very happy about their vote being manipulated, and I think it's going to be time for a change here," Mr Chauvel said.
"People don't want him to be humiliated, someone said at the public meeting last night 'look you've had 27 years, we don't want to see you go down in a screaming heap but it is time'."
- APNZ