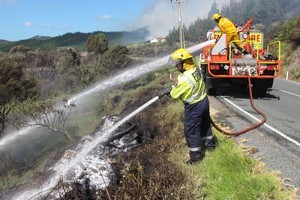 A massive fire still burning in a Far North pine forest is believed to have been started by workers on a government employment scheme clearing scrub for a coast-to-coast cycle trail.
It is expected to take weeks to extinguish the blaze, which broke out on Monday afternoon.
The fire, near the Hokianga settlement of Horeke, has destroyed about 325ha of pine plantation and with tinderbox conditions, there was a risk it could spread further, Far North principal fire officer Lance Johnston said.
More than 100 firefighters and five helicopters with monsoon buckets have been battling the fire but strong winds have fanned the flames and blown embers more than 200m, causing further flare-ups.
Local firefighters patrolled the area overnight looking for outbreaks.
Mr Johnston said it was the largest fire the Far North had seen in several years and it would take weeks to completely extinguish.
"We've got it surrounded, I wouldn't say it's contained yet. The weather is a big factor up here at the moment, it's so dry and windy and whatnot, so our main task is getting it contained and then we're going to have the big job of mopping it all up.''
Nearby houses had to be evacuated as the fire threatened to engulf them at one stage, but this risk had been averted.
What firefighters really needed was lots of rain: "Greymouth-style rain,'' Mr Johnston said.
The blaze, the biggest in the Far North for many years, has cost $120,000 in helicopter flying time so far. Mr Johnston thought the final cost could reach $1 million.
The Northern Advocate understands the fire started beside Horeke Rd where Community Max workers clearing part of the Twin Coast Cycle Trail had lit a small pile of vegetation.
Fanned by a strong wind, the flames jumped the road into scrub and spread into pines.
The Horeke-to-Opua trail is a Far North District Council project, but the community workers are partially funded by the Ministry of Social Development (MSD).
Northland MSD regional commissioner Jan Rata said police were investigating the cause of the fire and that would ultimately determine how it was started.
"My current understanding is that it may have involved young people working on the Cycleway Hokianga project and it is not being treated as suspicious,'' she said.
"Community Max workers are employed by local trusts to clear scrub and cut tracks for the cycleway. The trusts are partially funded by Work and Income. Once we have all the facts we will be able to provide further detail.''
Council chief executive David Edmunds said he would not comment on the cause of the fire until the investigation was complete.
"We're not treating it as suspicious, but we are investigating a number of good leads,'' he said.
Mr Johnston said investigators had a "pretty good'' idea how the fire started but would not elaborate.
"Lets say it was an avoidable fire.''
For more articles from this region, go to Northern Advocate