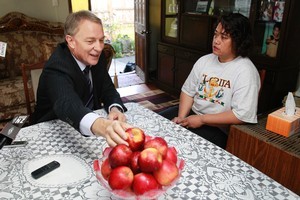 The roller door on the garage came down just before Phil Goff came visiting at the Tafolo family's rented home in Otahuhu yesterday.
Palutea Tafolo, 47, a union delegate in the Spotless Services cleaning crew at O-I New Zealand's Penrose glassworks, was waiting for the Labour leader in her living room with daughter Vornda, 24, a packer, and son Alipate, 21, who has been out of work since the middle of last year.
While Mr Goff discussed the GST on the fresh apples on her table, her husband Filipe stayed in the next room.
"He's shy," she explained.
Unseen in the garage were her other two sons and daughter-in-law. One son moved into the garage after he broke up with his wife.
"There was no room in the house so he's in there," Mrs Tafolo said.
The other son and his wife both work, but can't afford their own home.
"They can't afford a bond," Mrs Tafolo said. "Because we just came from Tonga we are struggling to live in one house so we can do all the expenses for making something to live on. If we all live together we make it smaller so we can make a living."
The family came under the Pacific access quota in 2007 because, Mrs Tafolo said, "New Zealand is a better place for my children in the future".
But right now, they are Labour's poster family. Even with six of the seven adults in the house working, they struggle on low wages. Mr and Mrs Tafolo each earn only $14.05 an hour at Spotless and work for 30 hours a week. They want longer hours but the work is limited.
Vornda earns $14 an hour as a packer for Leader Products.
The family saves $50 a week towards a house deposit, but rent of $390 a week leaves little extra.
"I'm diabetic," Mrs Tafolo said. "The doctor teaches us how to eat healthy food but how can you eat healthy food when the food is expensive? We only go for the 99c fruit. Sometimes we bought it and we come home and find out it's no good."
When the car breaks down, the family ask friends and relatives to help until they can save money for repairs.
"Sometimes when the doctor gives me the prescription I keep it in my hand for over a month until I have enough money to buy it," Mrs Tafolo said.
A Labour victory on Saturday would be a dream come true. Raising the minimum wage to $15 an hour would give Mr and Mrs Tafolo an extra $23 a week each. Abolishing tax on the first $5000 a year would give each of them a further $10 a week. Scrapping GST on fresh fruit and vegetables would let them buy good fruit.
"Even $500 a year will help me to my dream home that I'm dreaming of," Mrs Tafolo said.
Mr Goff told her it could be funded by taxing capital gains and raising the top tax rate to 39c in the dollar.
"People like me earning over $150,000 will be paying a lot more tax, but someone like Palu and hundreds of thousands of families out there will pay less tax," he said.
Marja Verkerk of the Building Service Contractors Association, which includes Spotless Services, said cleaning companies would be happy to pay cleaners $15 an hour if building owners paid them enough to cover it.
Union negotiations early this year fixed an industry starting rate of $13.50 an hour.