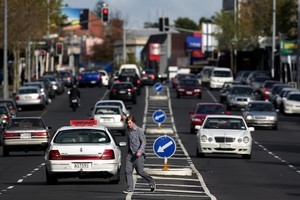 It is extremely rare for Auckland to be rocked by an earthquake. But such, of course, was once also the case for Christchurch. Put those two facts together and it is reasonable to expect Aucklanders will have a fairly relaxed view about the threat posed by a quake but, at the same time, recognise that sensible precautions should be taken.
All the more shame, therefore, that a panel that heard public submissions on a draft earthquake-prone policy has concluded Aucklanders will become a panic-stricken rabble if they had access to a list of the city's buildings that could collapse in a moderate jolt. The panel, comprising councillors Penny Webster and Michael Goudie and local board member Ken Baguley, has recommended to the Auckland Council that the list of 4300 earthquake-prone buildings should not be published.
It talks of a significant likelihood that the information would be misconstrued. Amid the panic that would ensue, the listed buildings could be blacklisted.
The panel says this was a difficult call because it involved private property versus the public right to know. But, as elected representatives, it should have been easy for them to see which way they should jump.
Quite simply, the more information that is released to people in situations like this the better. The only caveat is that it should not be presented in a way that encourages unnecessary alarm. Armed with information, people can make their own judgments. If they decide not to shop or go to lessons in a quake-prone building, so be it.
But in an area judged by the Institute of Geological and Nuclear Sciences to be of low seismic risk, this response would surely be unusual.
The panel's recommendation is the more odd in that the list of buildings is publicly available for those prepared to seek it under the provisions of the Local Government Information and Meetings Act.
If the council accepted the panel's view, it would only be making it more difficult to gain access to this information. That, again, is hardly a path that elected representatives should be travelling.
In terms of blacklisting, there is presumably also a fear that the earthquake-prone buildings would slump in value and that property owners will have difficulty selling. There is nothing, however, the council can do about that.
The Christchurch earthquakes have heightened awareness of the frailties of some buildings. In Auckland, this has meant a focus on pre-1940 commercial buildings in old town centres such as Mt Eden, Kingsland, Remuera and Parnell, as well as the central city.
Any prospective buyer would surely take care to search the public record to check whether a property was quake-prone. Owners, for their part, might be inclined to strengthen their buildings sooner, rather than meet longer-term council deadlines.
The panel's recommendation flies in the face of that adopted by the Wellington City Council, which has made its list of earthquake-prone buildings publicly available online.
It has done this even though Wellington is far more likely to be the victim of a substantial jolt that causes death and injury.
Using the Auckland panel's logic, this should have engendered a high degree of panic. That has not occurred. Instead, the Wellington council has, rightly, judged that the people of the city are quite capable of assessing such information and responding reasonably.
The Auckland Council has, in its short history, already demonstrated an unwillingness to replicate such openness on this issue. It can turn a corner tomorrow by rejecting the panel's recommendation.
Publishing the list would affirm Aucklanders' right to know the earthquake status of buildings they visit for whatever reason.