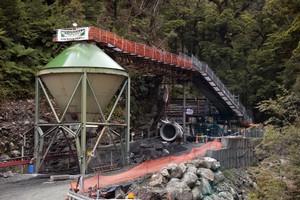 One of the men charged with supervising a complex mining system at Pike River had never received formal training and described the process as "all very high tech".
Minserv mining consultant David Stewart, who performed a series of audits on the Pike River between February and April last year, is giving evidence to a Royal Commission of Inquiry into the West Coast disaster.
Engineering, Printing and Manufacturing union counsel Nigel Hampton presented him with evidence showing a deputy chief of extraction at Pike River had no experience in the hydro mining - the method described as a "prime suspect'' in the fatal November 19 explosion.
The man had received only on-the-job training, despite calling himself "out of my depth" and describing the method as "all very high tech" in written notes.
Mr Stewart said that was not enough training for supervising a complex and risky method of coal extraction.
"He said it was wholly inadequate and I agree with him... It's inadequate training and experience to take on a role such as that.
"I would not be recommending such a person."
Earlier, Mr Stewart painted a picture of a "dysfunctional" Pike River mine beset by low morale and a lack of trust in senior management.
He said miners working underground had an "unusual" level of distrust in senior management, which included Pike River Coal chief executive Peter Whittall, during audits he performed in February and April last year.
That may have contributed to the safety problems that plagued the mine before it exploded on November 19 last year, he said.
"There appeared to me a greater level of dysfunction and mistrust than at other mines I had worked with... I do believe this may have contributed to some of the problems the mine had experienced."
Mr Stewart said there was a worrying lack of experienced miners in the Pike River mine.
That inexperience was coupled with inadequate gas monitoring systems, he said.
Pike staff had "no idea" about methane levels in the mine because there were no sensors able to give a real time assessment of the gas levels at the time of his audits in February and April, he said.
"This was not good practice."
Ventilation was also a problem at Pike River, with contaminated air sometimes recycled into the mine, Mr Stewart said.
He said a second emergency exit up the ventilation shaft in the mine was "impracticable".
"Only the fittest would escape through this route, particularly while wearing a self rescuer."
Mr Stewart did not return to the Pike River mine after he completed his last audit in April last year.
He paused to gather himself when he described returning to the mine as part of the NZ Mines Rescue service team in the wake of the November 19 explosion.