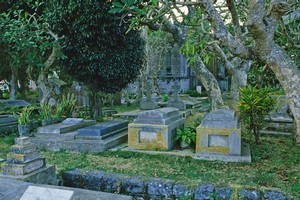 An increasing trend towards "natural burial" could help prompt a cemeteries bylaw review if Hamilton councillors agree.
City council staff will tomorrow ask councillors to approve an update of the Cemeteries and Crematorium Bylaw so that provision for the unique type of burial can be included.
The popular phenomenon among the green-conscious worldwide has been gaining traction for several years and in February last year, the council decided its bylaw should allow for a designated area at Hamilton Park Cemetery at a cost of $20,000.
In a natural burial, bodies are not embalmed, and biodegradable coffins are lined with wool or calico.
Common practices are for the dead to be buried in a wicker or cardboard coffin, and a tree is planted above to mark the remains.
Plots would need to be identified through a geographic information system because with time and without monuments, natural-burial land would eventually become native bush.
The grave site is supposed to last about 20 years.
At Wellington cemetery, where natural burials have proven popular, plots cost more than standard ones.
Hamilton's current bylaw provides guidelines on the management and operation of cemeteries, including the responsibilities of different parties, management of facilities, denominational areas, specification of caskets, plots and memorials, memorabilia and eligibility for the returned services cemetery.
In May, the council consulted funeral directors and monumental masons, who said an updated bylaw had to provide for natural burials within cemeteries, while memorials and memorabilia which did not comply with the bylaw needed to be addressed.
They pointed out that the present bylaw, last reviewed in 2008, was restrictive when it came to the size of memorials and memorabilia.
The groups also wanted more options for family burials and extended cemetery operating hours.
It's unclear why it has taken the council almost two years to move forward with its February 2010 decision. However, the bylaw is usually reviewed every three years.
Councillors will hear the recommendations at tomorrow's strategy and policy committee meeting.