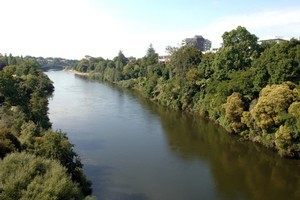 Six million dollars is available for people who want to help clean up the Waikato River.
The Waikato River Authority, a co-governance body of the Crown and local iwi, is responsible for administering a clean-up fund of $210 million over 30 years.
Applications for the first round of funding began at the start of October and close on December 16.
The authority says there has been a high interest so far and meetings have been arranged with groups that have ideas for the clean-up.
Authority co-chairmen Tukoroirangi Morgan and John Luxton said they were keen to receive even more applications and wanted to work with those submitting them as closely as possible.
"We understand that there are many groups and organisations that are still coming to know and learn about the authority and what its objectives are, so the more we can get alongside these people as they make their applications the better it is for everyone," Mr Morgan said.
The Clean-Up Trust will prioritise potential projects under six headings which include those that recognise the Maatauranga Maori - a "way of knowing" implemented by tangata whenua in the clean-up of the Waikato River and its catchment area.
Projects that have a community outcome associated with the Waikato River and its catchment, and applications that help the trust monitor the effectiveness of funded projects, will be prioritised.
The other three areas of prioritisation are geographically based for areas above the Karapiro Dam to the Huka Falls, from the Karapiro Dam to the mouth of the Waikato, and the Waipa River.
Years of intensive farming and destructive activities along the river have degraded the Waikato and damaged relationships with the local iwi who identify with it.
The Waikato River Authority and the Clean-Up Trust were established to restore and protect the health and wellbeing of the river and its catchment for future generations.
The authority has a board of 10, half of them Crown appointees and half from the five river iwi.
To make an application for funding, go to waikatoriver.org.nz